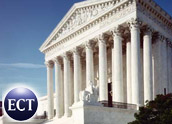 The U.S. Supreme Court Monday declined to take up an appeal brought by Microsoft and Best Buy, who wanted the high court to overturn a lower court decision that allowed a lawsuit alleging fraud and racketeering to move forward.
Without comment and with no apparent dissent, the justices refused to hear the appeal of a federal appeals court ruling in California that reinstated the lawsuit, brought by customers who claimed they were unfairly charged for the MSN Internet service, after a lower court had thrown it out. Supreme Court Chief Justice John Roberts Jr. recused himself from considering the case, the court said, likely because he owns stock in the two companies.
The California appeals court decision came in May, and Best Buy and Microsoft together petitioned the highest court — with support from third parties, including the U.S. Chamber of Commerce — to take the case up during its fall session. The case is known as "Microsoft v. Odom."
Credit Card Charges
The case involves customers who claim Best Buy employees activated trial accounts on Microsoft's MSN Internet service without their knowledge.
Credit card information used to buy personal computers was allegedly transmitted to Microsoft as part of that setup process and when the trial period expired, customers began to have charges appear on their credit cards.
Both Best Buy and Microsoft have denied any wrongdoing in the case. The appeal focused on the fact that the lower courts had let the case go forward as a racketeering matter, a charge that opens up both companies to possibly stiff punitive damages if they lose at trial.
RICO at Issue
The legal aspects of the appeal hinged on the issue of whether the agreement between Microsoft and Best Buy — part of a larger, US$200 million joint marketing push announced in April of 2000 — through which customers were signed up for MSN trials could be considered a corrupt organization or "enterprise," as defined by the Racketeer Influenced and Corrupt Organizations (RICO) Act.
Attorneys for Microsoft and Best Buy had argued in part that widespread confusion about how RICO applies to class action business lawsuits — with appeals courts around the country issuing varying and sometimes conflicting rulings — demands high court clarity.
Allowing the case to proceed and permitting routine business partnerships to be treated as "enterprises" as defined by RICO would set a precedent that could open the door for additional lawsuits under the law, the attorneys said.
Fraud Cases
"The rule in effect would make a broad range of routine corporate conduct actionable under RICO," the companies said in the appeal. "This dramatic increase in potential corporate RICO liability with its draconian remedies warrants review."
Originally crafted to enable law enforcement to target organized crime, RICO has increasingly been used by attorneys in civil cases involving fraud. If proven, racketeering charges open a civil defendant up to triple damages.
"The courts of appeals are hopelessly divided on this issue," the U.S. Chamber of Commerce wrote in a friend-of-the-court brief on the case. The lower court ruling, it added, could have a "profoundly negative impact on American business because it unfairly penalizes corporations with the threat of private civil actions for treble damages based on everyday business agreements between corporations."
Familiar Refrain
The allegations against Best Buy and Microsoft stem from the period starting in 2000, a time during which dial-up ISPs (Internet service providers) were first racing to sign up customers and then were forced to scramble to stem the tide of customers leaving for high-speed options from telephone and cable companies. America Online has settled suits from that time alleging that it made it difficult for customers to leave when they called to cancel their monthly subscriptions.
"There was a time when ISPs were fighting for survival and some bad decisions were made about how to approach customer relationships around that time," said JupiterResearch analyst David Card. AOL has been accused of paying customer service workers bonuses for convincing people to stay, for instance. Similarly, the lawsuit against Microsoft and Best Buy alleges that when people called to complain about their phantom charges, they were told to take the matter up with their credit card companies.
"For a while, it went beyond competition and became about avoiding extinction," Card added.
The RICO Approach
The prospect that the RICO approach would spread may already be coming to pass. A similar class action was launched in Washington state in 2004, for instance.
Though written to give law enforcement a way to break the backs of the mob and other organized crime, RICO has begun to be cited in a wide variety of contexts. One lawsuit attempted to accuse the Recording Industry Association of America (RIAA) of racketeering as part of its campaign of lawsuits against alleged file-swappers. Last year, the founders of P2P network Morpheus accused the founders of Skype of stealing technology and invoked RICO in their complaint.
While some see RICO being used as a hammer of sorts designed to induce defendants into settling rather than face potentially high damages, there are times when it's an appropriate part of a civil complaint, Jeffrey E. Grell, a lawyer specializing in RICO cases, told the E-Commerce Times.
"When the facts of a case warrant a RICO invocation, it can be a legitimate and potentially a very powerful tool for plaintiffs," Grell said.
Almost four decades after it was passed in 1970, "RICO is almost never applied to the Mafia," he added. "A RICO claim can arise in almost any context."