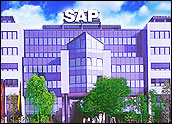 Shares of German software giant SAP were battered Thursday after the company warned that earnings and revenue would fall short of forecasts. The announcement fed speculation that rival Oracle's aggressive growth-by-acquisition strategy has started to erode SAP's market share.
SAP shares gave up as much as 10 percent of their value after the company said it had lost market share in the second quarter for the first time in three years.
Staying the Course
The largest maker of business software in the world said new software license sales were up 8 percent, about half the 15 to 17 percent growth the company had laid out for all of the current fiscal year, and that overall sales and net earnings would come in below consensus estimates.
Revenue for the quarter was estimated at about US$2.8 billion, an increase of 9 percent over the year before.
CEO Henning Kagermann said SAP appeared to have lost about 1 to 2 percentage points of market share during the quarter.
Though he didn't single out Oracle as the beneficiary, Oracle's own upbeat earnings figures suggest it is making headway. SAP has eschewed Oracle's strategy of buying large firms, instead focusing on growing organically and through smaller acquisitions, he added.
"Now we have one quarter where we, let's say, came in a little weaker," he said in a conference call. "That doesn't mean that our strategy is wrong or SAP has changed something. I think we are fundamentally strong."
Steady on Full Year
The slower growth came despite strong numbers in the United States, where license revenue was up 16 percent in the quarter. Growth in Europe was slower, with overall growth of 3 percent and growth of 8 percent in SAP's home country of Germany.
Despite the quarterly stumble, SAP, whose products are used for a variety of business processes, held firm on full-year predictions for license revenue growth.
"Our order entry is strong and we continue to see a robust pipeline," Kagermann said. "Product launches are moving forward as planned and customer interest in new solutions is strong."
SAP is fending off the competitive threat that Oracle now represents following its acquisitions of PeopleSoft and Siebel, among others. For instance, SAP announced recently that the first product to emerge from its deal to work with Microsoft would be available this summer. Known as Duet, the tool would let users of Microsoft Outlook gain access to SAP's popular enterprise resource planning (ERP) and customer relationship management (CRM) applications.
IT Slowdown?
Even if Oracle has managed to chip away at SAP's customer base, SAP will likely remain the largest supplier of business software for some time. SAP ended 2005 with a 21 percent share of the worldwide market compared with 10 percent for Oracle, according to AMR Research.
"Oracle is charging hard, but we haven't seen the type of high-profile defections from SAP to Oracle that would really suggest a sea change," said AMR Research analyst Jim Shepherd.
Currently, Oracle may be more focused on ensuring that as many of the customers it obtained during its multi-billion-dollar spending spree remain on Oracle products going forward, he added, with the real battle with SAP still to come.
Meanwhile, the warning from SAP revived talk of a possible slowdown in information technology spending by large corporations, which could mean the start of harder times for tech firms.
Already in recent weeks, analytics software maker Business Objects said it would miss targets as some customers have delayed large deals, and EMC said its second quarter numbers would miss profit and sales targets due to slower demand in some specific parts of its product mix.
That view got another boost Thursday when Intel announced it would cut 1,000 jobs as part of a massive restructuring program.