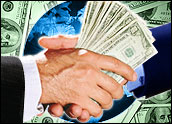 Flash memory market leader and music device maker SanDisk said Sunday it would buy rival Msystems in an all-stock deal worth US$1.5 billion.
The acquisition is aimed at beefing up SanDisk's share of the market for flash memory products for mobile phones, especially smartphones that double as music players. While SanDisk's specialty is removable flash storage devices, Israel-based Msystems has focused on flash memory that is built into devices.
High Hopes
"The flash data storage business is in its early stages and we believe the market opportunity is largely untapped," said Eli Harari, chairman and CEO of SanDisk. "Msystems is a leader in flash memory systems addressing mobile, portable and embedded markets and they have a strong team, significant IP and important OEM customers."
In a conference call to discuss the deal, Harari said the combined company could generate $10 billion in annual sales within four to five years. The company had 2005 revenues of $2.3 billion, while Msystems clocked about $540 million in sales.
The merger will give the companies the "the critical mass and complementary products, customers, channels, technology and manufacturing base to take our shared vision to the next level," he added.
Msystems CEO Dov Moran said his company will benefit from SanDisk's low-cost manufacturing processes. "This deal has synergy at its core, encompassing people, technology, products and customers," he said. "I am confident we can succeed in achieving the goals we set for ourselves."
The deal calls for Msystems shareholders to receive a 0.76 share of SanDisk stock for every share of Msystems stock they own. Based on Friday's closing prices, the deal represents a 26 percent premium for Msystems, which has been dogged by the necessity to restate several years' worth of financial reports.
SanDisk shares were down about 1.5 percent in midday trading Monday to $46.47.
Fast-Growing Market
A variety of trends are driving strong growth in the flash market. For one, many device makers now favor flash memory over hard-drive versions for smaller devices. Apple, for example, shelved its iPod mini, which used a hard disk for storage, in favor of the flash-based nano.
Likewise, flash is the key to enabling mobile phones and other hand-held devices to rapidly store and play back music, and more demand is expected as phones add additional capabilities, such as video playback.
Flash sales set a record in 2005, reaching $10.6 billion in worldwide revenue, a number that will grow to around $18.7 billion by 2010, according to research firm IDC.
Sales are benefiting from overall growth in the demand for computer storage technology, IDC analyst John Rydning said, with both the hard-drive storage and flash memory markets growing rapidly, though for different reasons.
Trend in the Making?
Flash is expected to have a growing number of uses in the portable device space as well as a method of increasing the portability of information. For instance, SanDisk's thumb-drives are one of its biggest selling product lines.
"The need for storage is growing tremendously," Rydning said. "The amount of data being kept on PCs and being downloaded for use on more than one device continues to expand the market."
The acquisition could be part a new wave of mergers and acquisitions in the technology space, as it represents the third major deal in the past two weeks. Earlier this month, AMD purchased graphics chip maker ATI for $5.4 billion and Hewlett-Packard last week said it would buy Mercury Interactive in a deal worth $4.5 billion.
Interestingly, Mercury, like Msystems, has been dogged by questions about its financial reporting and its use of stock options. Some analysts believe those questions helped make the deal possible by bringing down the final price of the purchase.
Earlier in the month, Msystems said it had applied for an extension of time to file its 2005 annual report with the Securities and Exchange Commission (SEC). It also canceled a secondary stock offering around the same time, cash it would likely have used to build out its own manufacturing capabilities.