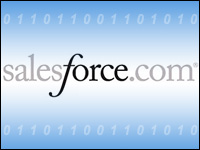 Hoping to spur interest in its hosted platform among non-CRM users and compel more developers to build compatible tools, Salesforce.com has launched an online application marketplace.
Known as AppExchange, the marketplace will offer applications developed by Salesforce.com and third parties for everything from human resources and project management to new areas for the company such as finance, electronic signatures, document management, data cleansing and professional services management. Some will be free; others will have a licensing fee.
Strong Comparisons
The service, announced at the company's Dreamforce '05 annual conference, went live with some 70 applications available for preview. Applications will be available for integration into Salesforce.com hosted products starting with the Winter '06 release, due out before the end of the year.
In announcing AppExchange, Salesforce.com founder and CEO Marc Benioff compared it to two icons of the digital age — eBay and the iPod.
"What if there was an eBay of enterprise applications? What if there was an iTunes music store of enterprise applications? We call that the AppExchange," Benioff said.
Benioff extended the Apple comparison, saying that existing customers of Salesforce.com's hosted product will be able to add on the new applications as they choose.
"You will see a wide range of applications but they will all run on the Salesforce.com platform that you already have," he added. "The iPod is to iTunes as Salesforce.com is to the AppExchange."
Expanding the Base
The company hopes the move will boost use of the Salesforce.com platform within companies that use it exclusively for CRM, by luring users in non-customer-facing parts of a business to use the tools.
The comparison with eBay only goes so far, since the company said it would not take a commission on software it sells. Instead, the goal is to boost use of its product and to encourage developers to build applications that work with the Salesforce.com platform.
In that way, the marketplace aims to borrow a page from yet another tech giant — Microsoft. Just as Microsoft has benefited from having thousands of software developers build applications and tools that work with Windows, Salesforce.com hopes to build a vast library of productivity and enterprise software that works on its hosted platform.
But some analysts said businesses might be reluctant to download programs from the marketplace unless they can be assured they have been vetted for security and reliability. In addition, because Salesforce.com will not support third party applications, companies may be weary of using them in business critical settings.
Fast Times
Salesforce.com shares moved higher today by more than 5 percent to US$22.82, likely thanks to an analyst upgrade from Jefferies & Co.
Salesforce.com's new endeavors and its annual conference comes amid major changes in the competitive landscape around it. Oracle's $5.8 billion purchase of Siebel, announced yesterday, will when consummated create the largest CRM vendor, ahead of number two SAP.
Salesforce is small by comparison, but may be able to gain from the merger, some analysts say, amid confusion and concern about the combination of Oracle and Siebel product lines and businesses.
Enderle Group analyst Rob Enderle said it's still too early to tell whether the "death of software" mantra being chanted by Salesforce.com and others will prove correct — that is whether the Internet will replace packaged software.
"It's too early to call it," Enderle said. While Oracle and others have begun to offer hosted applications alongside traditional software, companies that focus only on the hosted model are taking more of a risk. "The software industry is going to be seeing a lot of changes for some time — that's the only guarantee at this point."