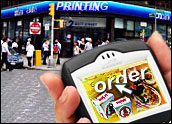 Buying sponsored links on a major search engine isn't cheap. Getting to the top of the search engine pile without paying your way requires mastery of search engine optimization — a craft that often seems to fall somewhere between advanced calculus and alchemy.
However, for small businesses catering to a local community — a pizza restaurant, for instance — simple mapmarketing can be an attractive combination of free and easy. Just keep your info up-to-date, and whoever's looking for a pizza in your neighborhood will know you're there.
Map marketing was the topic of conversation at a panel session of the Interactive Local Media conference in Los Angeles last month. The E-Commerce Times spoke with one of the panelists, Joe Abraham, vice president of Web marketing for online marketing firm SageRock.
E-Commerce Times: What are some of the biggest mistakes small businesses catering to a very localized community might make in trying to get themselves onto these map services?
Joe Abraham:
I think the most common thing is, they don't do anything at all. There's tons of information about your company that's already out there, and you have to make sure that information is correct. All of the engines right now are making it really easy for small businesses to go to the engines through some sort of interface, claim their business in some way, shape or form, and make sure they have the right phone number, the right address, the right hours of operation located on these maps, the Internet yellow pages, all these things that are out there driving traffic but might have the wrong information.
To me, that's the No. 1 thing; making sure they go out and update data to these directories where it's totally free to do it. … This is something you can do in an afternoon. It's not a full-day commitment, it's not a week's commitment — it's a couple of hours. You're at the Internet and making sure you have all the right information for your business sitting in front of you.
E-Commerce Times: You mentioned during the panel discussion a couple of ways a small business can tell whether or not its map efforts are paying off.
Abraham:
Google makes it really easy right now. … Once you have your information correct with Google, you can make a coupon. If you were, let's say, a local sandwich shop, and you wanted to offer a 10 percent discount on [a customer's] first purchase there or whatever, you can actually have people print up the coupon, bring it in, and you can track your online sales right to the purchase. …
E-Commerce Times: The big search engines — Google and Yahoo, for instance — also have the most widely used map services. But there are also other map services, a little bit smaller, maybe not as highly trafficked. How much work does it take for a small business to keep its information up to date in a smaller map service, and is it worth the extra effort to go into those smaller map services that not as many people use?
Abraham:
I think it's worth the effort if you can actually see good results in the bigger players who are out there. I like to start with a smaller campaign, and if it works, then I can go through and try to explore other opportunities. I think initially your best used time is going through and making sure your information is correct on Google, Yahoo, MSN. InfoUSA is another big one. That one actually disseminates information out to a lot of other smaller players. So really, if you hit those four pretty hard and make sure that your information's right in there, you'll be getting most of the big players in the mapping world right now.
Once you start actually seeing results, you can see if it's actually working for you and then decide if it's worth it to go and hunt down some of these smaller local niche directories that would be serving up the localized content. …
E-Commerce Times: At the panel there was also some talk about social networking. What do you think is the future of mapping in the face of social networks like Facebook? How does mapping figure into that trend?
Abraham:
More and more, it's all coming down to this local game. I don't think it's maps in general; I think it's the whole concept of local and having that move from the general online space to a more geo-targeted one. At the conference, Facebook was there to talk about their new ads where you put your friends in ads, trying to find ways to make it more relevant to you. I think that's really what maps are doing — trying to make information more relevant to you and where you are right now. …
I know mobile is going to be a big thing too. It's all going to be about where you're located. I know right now in Asia, it's giant. Mapping on cell phones is huge. Advertising on cell phones is huge. We're just not there yet. The penetration isn't quite high enough, and the technology — as far as what cell phones people are using — just isn't there yet. …
E-Commerce Times: What kind of time line are you looking at for how maps might catch on in the mobile space state-side?
Abraham:
I think we're still looking at another two or so years, maybe even longer. I think as we see a higher penetration of this next generation of phones — the iPhone, the Prada phone, the LG phone — the ones with more advanced features where you're not limited to a mobile browser, where you can actually have a full browser on your cell phone — I think that really [will] open the world up to that.
Plus, Microsoft actually recently launched a new version of their mobile mapping program that works on any Windows-based cell phones right now. That's actually a really great program to allow you to use the GPS (Global Positioning System) in your phone to figure out where you are and where the closest whatever-you're-looking-for is at. When I was in L.A. recently, I was playing around with that, and it's actually a really fun program. …
I think the technology is there. It's just a matter of people buying the cell phones and downloading the software in order to use it. These really could replace the Garmins and TomToms of the world.