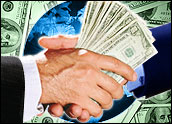 In a bid to provide more services to mid-sized enterprises in the United States, UK-based Sage Group said it will acquire Verus Financial Management for US$325 million in cash.
Verus, a Nashville, Tenn.-based division of Financial Technology Ventures, specializes in providing credit-card and check processing services to small and mid-sized enterprises, including retailers, business-to-business providers and e-commerce companies.
Varied Services
Verus has more than 100,000 merchant customers, ranging from online retailers to gas stations, restaurants and car dealerships. Verus' revenues comes from service fees linked to processed sales transactions. The firm's services include point-of-sale authorization and transaction settlement, check conversion services and back-end transfers from customer to merchant accounts.
Payment processing services are growing in importance to small and mid-sized businesses (SMBs) as e-commerce expands, Sage said, and with rising use of credit and debit cards over cash to make a range of purchases.
"Acquiring Verus expands our business management solutions into a growing market, where SMBs are showing clear demand for more automation of their business processes," said Sage Software CEO Ron Verni.
"For our existing customers, Verus will provide merchant payment services that can be linked to their existing Sage accounting software," he noted. "For new customers, these new payment services, in addition to our payroll services and customer relationship management products, further broaden the appeal of Sage solutions beyond pure accounting."
Expanded Portfolio
Verus will be integrated into the U.S. division of Sage and form an expanded North American Merchant Services Division, where Sage already provides payroll processing services.
Verus has been experiencing strong organic growth since making a number of acquisitions in 2002 and 2003, Sage pointed out. Sales for 2005 were around $64 million and the company was profitable, earning around $21 million.
Verus' SMB customer base is likely to adopt more integrated services, Sage expects, such as linking payment and payroll services with accounting software and databases — something it provides through its customer relationship management (CRM) suite of products, especially its accounting platform.
Sage is the UK's largest publicly traded software company and provides payroll services to about 1 million firms in the U.S. The Verus buy is the largest acquisition by Sage since it bought another U.S. firm, Interact, in 2001.
Mixed Reactions
Though based in the UK, Sage relies on the U.S. for the majority of its revenues. And though it has long specialized in accounting software and services, the firm said in its most recent earnings report that CRM tools are the fastest-growing part of its product lineup.
Whether the deal is a good one for the company — which has been on an acquisition spree, buying up a number of smaller firms in the U.S. and Europe — is unclear. It could move Sage away from its core focus, caution some industry observers. However, he potential size of the emerging payments-processing market could made the deal a wise one, according to others.
Sage will be acquiring a customer base that likely will include many potential buyers of its other products, noted UK-based research firm Cazenove.
"We view this as a smart move into a growing market, and one which provides significant cross-selling opportunities in both directions," the firm said in a research note.
The buy "seems strategically a sensible move," according to research firm Bridgewell, one that will help Sage benefit as the business outsourcing trend, already well entrenched in the large enterprise space, begins to take hold among smaller firms.