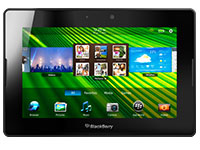 Research In Motion looked to turn the page with its PlayBook tablet on Wednesday with the release of the 2.1 update, which added features many users had hoped to see sooner.
They include email and PIM enhancements, along with improved Android application support, as well as print via WiFi networks, text messaging with BlackBerry Bridge, and portrait orientation for messages, calendar and contracts.
"Our main goal is the continuing evolution of the PlayBook software," Shaun Coghlan, senior product manager for BlackBerry PlayBook, told the E-Commerce Times. "This update added a lot of the features that we were missing, according to the media."
The update continues the evolution of features users had been asking for, he added.
New Page for PlayBook
While those features are no doubt welcome, the overlying question is why did it take so long to add them, and why weren't they included in the first place? Is this a sign that the PlayBook is trying to remain an open book in users' minds — and is this enough to keep it from being slammed shut?
"When we look at the tablet updates, they are still doing catch-up with the functionality that is available in other tablets," said Rhoda Alexander, senior manager for monitors and tablets at IHS iSuppli. "But absolutely anything that they can do to improve the experience helps users look at it in a new way."
Among the updated features, one that's of special interest to corporate consumers is security, Alexander told the E-Commerce Times.
"This has been their card to play in the smartphone space — to provide a secure solution as they move tablets across the corporate space," she added. "All of that helps in some way. However, the closing statements that they made — that they sold a million units — well, that's such niche status compared to the market overall."
Still, this is much more than business as usual, as the PlayBook could find a home in the business market. This update could be what actually gets businesses to open the book.
"RIM had jumped into the tablet business a while ago, yet just hasn't made any waves," said telecommunications analyst Jeff Kagan. "They just rolled out updates to the software, which should mostly help RIM improve sales."
Sales Book
RIM is likely pegging its hopes for a turnaround more on its upcoming BlackBerry 10 platform for smartphones than on its PlayBook, though. It has seen its stock rise in recent weeks, suggesting that there is still life in the embattled company.
"It is a definitely a good sign," said Francis Sideco, senior principal analyst of consumer and communications at IHS iSuppli.
"As someone who watches them, I can say this is cautiously optimistic. We'd have to see a couple of quarters of growth, along with the BlackBerry 10 launch, to feel comfortable that they are pulling out of a dive," he added.
"Some of this is speculative [based on] the bump-up in subscribers that they were able to report this quarter," Sideco told the E-Commerce Times. "That is great, but definitely we need to see momentum built up over multiple quarters."
Over the long term, RIM's greater problem could be that the company is still playing catch-up with its product lines, as the PlayBook update suggests.
"RIM just has not captured the imagination of the marketplace," observed Kagan. "They may as the tablet market matures, but there are quite a few companies also trying to break in."
That said, it could still be too early to count RIM out, as the enhancements to the PlayBook show it is still looking to stay in the game.
"We are future-proofing our products for our customers," said Coghlan.