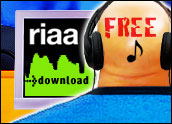 Following a spate of civil suits filed against music consumers in September, the Recording Industry Association of America (RIAA) has launched the next phase of its war on digital piracy. The organization has sent a total of 204 letters to individuals, each of whom, it claims, has made at least 1,000 songs available for upload on peer-to-peer file-trading services such as Kazaa.
The RIAA sent out the letters in two groups, the first last Monday and the second last Thursday. Moreover, the association said it intends to continue "identifying illegal file sharers for purposes of enforcement."
Unlike the lawsuits filed in September, which gave no prior notice to individuals, these letters are designed to serve as warnings to those whom the RIAA has targeted, offering them the opportunity to settle with the RIAA if they respond within 10 days of receiving notice. Otherwise, as each letter states, the RIAA will begin litigation proceedings.
"Although we want you to appreciate the harm that piracy causes, the purpose of this notice is to provide you with the opportunity to resolve this matter and avoid being sued," the letter states.
Continuing Efforts
RIAA president Cary Sherman said the letters were sent because the RIAA "want[s] to go the extra mile and offer illegal file-sharers an additional chance to work this out short of legal action."
Sherman added: "Our objective here is not to win lawsuits. It is to foster a business environment where legal online music services and bricks-and-mortar retail stores can flourish. Our continuing efforts are critical to the long-term success of the copyright community, which accounts for thousands of jobs in this country and is our leading export."
However, Cindy Cohn, legal director of the Electronic Frontier Foundation (EFF), told the E-Commerce Times that the RIAA's method of quelling unauthorized file-sharing is not cost-effective, at least in the short term.
"It's fair to say that they're losing money on this," she said, adding that the average settlement has been between US$2,000 and $5,000 — less than what it probably costs the RIAA's legal team to search for people illegally sharing files, serve complaints and negotiate settlements.
"They obviously are trying to send a message, but even if they were sending the best message, they can't kill [file-sharing]," Cohn noted. "They have not even made a dent."
Substantial Disconnect
For his part, GartnerG2 research director Mike McGuire told the E-Commerce Times that there is an interesting — and substantial — disconnect between RIAA law enforcement tactics and the growth of legal online download services, such as iTunes Music Store and Napster.
He pointed out that the RIAA's Web site does not feature any information about the increasing number of legitimate music download services being launched. A sister site, Musiciansunited.org, does offer links to legal online music stores, but these sources are not emphasized.
McGuire said this lack of a positive, proactive statement seems peculiar, given that one way to counter a phenomenon like illegal file-sharing might be to provide easy-to-use alternatives.
In fact, proactive positioning is usually a precondition of shifting behaviors, he added.
Outside Momentum
McGuire went on to say that music-industry outsiders like Steve Jobs are the only people injecting any energy into the music business, while the RIAA and major labels seem focused on stopping new consumer behaviors and returning the business to the way it was years ago, with customers buying CDs.
"All the forward momentum and growth is coming from outsiders, and when have we seen this happen in an industry before?" he quipped.