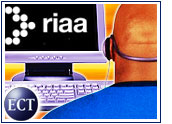 The Recording Industry Association of America (RIAA) is planning to offer music downloaders a reprieve from prosecution, provided they adhere to certain conditions, according to published reports.
People who have illegally downloaded copyrighted music files allegedly would be required to destroy all of those files on their PCs, destroy any known CDs or other media generated from the files, and fill out and send a notarized form to the RIAA pledging not to engage in illegal file sharing again.
Although some reports have stated those seeking amnesty also would have to provide a photo of themselves, GartnerG2 analyst Mike McGuire said such a requirement seems implausible.
"It's one thing to go up against illegal file sharers, another to go up against the ACLU," he told the E-Commerce Times. "I'm guessing the ACLU has a bit more money to spend" on protecting citizens from such an action.
No Amnesty for Pirates
Apparently, the amnesty offer would be voluntary — and available only to those against whom the RIAA has not yet filed suit. In addition to the myriad subpoenas already delivered, the organization is preparing to subpoena hundreds more of "those who egregiously distribute music" as early as next week.
McGuire called such a tactic, if implemented, an interesting one. According to him, the RIAA and major record labels have created an environment that suggests the industry does a fairly good job of identifying people and following through with threats of prosecution, partly by leveraging the accelerated appeal process of the Digital Millennium Copyright Act (DMCA).
He added that the RIAA and music labels may be hoping such an environment will prompt some people to clear their conscience. Also, practically speaking, the amnesty would serve as a sort of settlement, which is generally the first thing most parties accused of an illegal offense want to consider.
Overreaching Bounds?
However, Stephan Kinsella, an intellectual property patent attorney, told the E-Commerce Times that with the amnesty offer, the RIAA and record labels are leveraging their right to sue music swappers to obtain concessions they normally would not have a right to.
Before the advent of digital music, Kinsella pointed out, consumers had a certain degree of fair use flexibility to, say, make copies of purchased music for their own use, and copyright holders had no choice but to abide by those exceptions to the law. Now, the recording industry is aiming to restrict fair-use rights, providing a prime example of overreaching on the part of intellectual property owners.
Kinsella noted that IP laws are notoriously vague and that fair-use exemptions are needed as safety valves to limit abuses; therefore, the definition of fair use and the rights of consumers to use copyrighted materials need to be kept as broad as possible.
Heart of the Matter
The problem with IP laws in general is that they transfer partial control of a person's or company's purchased property to the creators of intellectual property, he explained. In other words, the owner of a music file's copyright would have partial control of a user's computer.
According to Kinsella, Utah senator (and songwriter) Orrin Hatch has gone so far as to advocate remotely destroying PCs owned by people with unauthorized music files on their hard drives. Such an action would constitute a violation of private property rights.
Overall, Kinsella said, IP laws as they now stand have the potential to stifle free speech, innovation and competition, and erode private property rights. Indeed, he added, they are creatures of legislatures instead of common law.
Getting to the Guardian
McGuire said he doubts file traders will start lining up for amnesty forms; however, others who may be only indirectly involved with file swapping may be convinced to do so.
Citing a recent case in which a man was sued for copyright infringement because his granddaughter was sharing illegally obtained music files on his computer without his knowledge, McGuire noted that parents, guardians or landlords of a residence with a shared network might sign on to the amnesty process.
"The parent might find all these songs on the family computer and find out that, 'Uh oh, there are no receipts,' and decide that [seeking amnesty] may not be such a bad idea," he said.
Speak Softly…
He went on to say that offering a reprieve to illegal file swappers would, if implemented, be just one tactic of many in the RIAA's overall arsenal. However, the RIAA and music labels must walk a fine line while carrying their big stick.
"There's a PR perception risk that if they apply the stick too hard, they could [anger] people who were previously neutral [to their actions] or not necessarily against their actions," McGuire said. "It will be very interesting to see how this will play out."