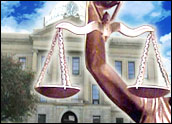 Showing no sign of letting up in its legal war against music swappers, the Recording Industry Association of America (RIAA) has filed another 761 copyright-infringement lawsuits against individuals.
As in the most recent batch of suits filed last month, the RIAA once again set its sights squarely on college-aged file sharers, suing 25 unnamed students on a dozen campuses nationwide, many of them in Massachusetts.
In fact, the geographical distribution of these suits and other recent legal actions suggests the recording industry might be taking a systematic approach at targeting campuses. Many of the 750 lawsuits filed in October targeted Midwestern colleges and universities.
RIAA President Cary Sherman described college students as "some of most avid music fans" and said colleges are increasingly striking partnerships with legitimate music download services to provide students legal options for acquiring digital music.
Sherman also seemed to suggest that because of the potential negative publicity, the suits might help prompt administrators to take additional action on their own to curtail illegal swapping. Some colleges, including Penn State University and others, have struck deals with music providers such as RealNetworks and Roxio to deliver discounted download services to students.
"During the fall, we have seen a flurry of additional agreements between schools and legal online music providers," Sherman said in a statement. "The lawsuits are an essential educational tool. They remind music fans about the law and provide incentives to university administrators to offer legal alternatives."
Turning Up the Heat
The latest lawsuits might suggest the RIAA is going to ratchet up its legal activity and brings to just under 7,000 the total number of people sued in the U.S. during the past 18 months. The RIAA has been undeterred by previous negative publicity aimed at the industry for slapping suits on teen-agers and even elderly people whose computers were used to download music.
Sherman said legal action will be necessary until legitimate swapping can find its audience. "Enforcement is always a means to an end — creating environments where legal businesses can gain a foothold in the marketplace and succeed," he said.
Others seem to agree. The Motion Picture Association of America (MPAA) earlier this month launched its own wave of lawsuits against people accused of using various P2P networks to swap illicit copies of Hollywood movies.
Those pursuing the legal avenue are likely being spurred on by data suggesting their tactics are working, at least somewhat, Graham Mudd, senior analyst at comScore, said.
While P2P usage remains strong, it has dropped off since around the time the lawsuits began to fly. Usage of Morpheus, Grokster and other network software "remains strong, with a substantial amount of activity, but has declined fairly steadily since June 2003," Mudd said.
At the same time, more legitimate downloads than ever are occurring. A study by Ipsos-Insight released earlier this month found that paid downloads were up 150 percent in the first six months of 2004 compared to last year, with 20 million Americans now having paid to get digital music off the Web.
Trouble in Fanning Land
Nine of the student lawsuits involve file-swapping that allegedly took place on Massachusetts college campuses. Among the targets are students at Northeastern University, which is famous as the site where Napster founder Shawn Fanning devised his infamous file-sharing program in a dormitory in the late 1990s.
Apart from any symbolic value of the targets, however, analysts say college campuses remain hotbeds of file-sharing because they have the bandwidth to allow massive amount of downloading to occur and because the age group is a technological trendsetter.
"If you get college students to buy more digital music, you change the overall tone toward it," Forrester Research analyst Paul Jackson said. "If it stops being cool to swap music illicitly, you've taken away a major motivation for doing it."
On the other hand, he added, if free swapping is allowed to continue, it will become a deeply ingrained and accepted part of the overall music and pop culture and permanently limit how much the legitimate download industry can grow.