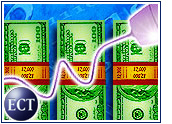 Dell Computer on Thursday raised its revenue and earnings estimates for the second quarter, crediting growth in the U.S. education, government and consumer business markets. The company's announcement buoyed the tech-heavy Nasdaq after a string of dismal trading days in the overall market.
Dell said it now expects second-quarter revenue will total US$8.3 billion, up about 9 percent from last year's second-quarter results.
However, analysts said the PC maker's announcement should not be viewed as a gain for the overall industry.
"Dell's apparent success is good news for shareholders but does not signal an end to the year-long tough times seen in the PC business," Aberdeen Group analyst Peter Kastner told the E-Commerce Times.
Gaining Ground
Analysts said they expected Dell to profit in the education market, thanks largely to its network of partners developed over the past few years.
"Many universities treat Dell as a preferred vendor," Kastner said. "Students can purchase discounted Dells at the university book store and get free university desktop support."
But in addition to an uptick in education, government and business sales, Dell executives said the company believes it is gaining market share from competitors in a climate of weak overall demand.
Kastner agreed that Dell has been increasing its market share in the consumer segment at the expense of Hewlett-Packard.
Price War Coming?
Despite Dell's good news, Kastner noted that the PC market is ripe for a new wave of price wars spurred by increasing inventories and the critical back-to-school buying season.
With a slow season leaving many machines in the warehouse, and with an even faster Intel Pentium processor rumored to be waiting in the wings, PC players are champing at the bit to unload existing inventories.
"We are tracking pricing, and so far there are no major indications of a massive breakdown in established pricing normalcy," Kastner said. "But it could happen at any minute."
Continued Struggles
Meanwhile, the PC market continues to suffer from the "I don't need it now" syndrome, according to analysts. Corporate upgrade cycles continue to drag, and rapid change in the laptop arena is causing consumers to wait longer before investing in new technology.
All of these factors combined mean continued struggles for PC makers.
Dell's second quarter ends August 2nd. The company plans to announce full results for the period, and to provide its first guidance for the fiscal third quarter of 2003, on August 15th.
Dell executives were not immediately available for comment. The company's stock opened at $25.46, compared with its Thursday close of $23.93, and was trading at $25.19 by midday Friday.