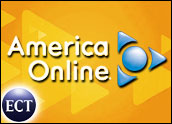 Time Warner has apparently decided not to sell off part or all of America Online, but instead is looking for a new search and advertising partner and may be putting the finishing touches on a deal to switch its search provider from Google to Microsoft's MSN.
Despite months of reports and rumors that all or part of AOL would be sold, with suitors including Microsoft, Google, Comcast and, at one point, Yahoo, Time Warner CEO Dick Parsons told reporters yesterday: "We are not interested in selling AOL."
Taking the Next Step
Instead, Parsons indicated that AOL is looking for a partner that can help it finalize its long-in-the-making transformation from a walled-in Internet service to a Web portal that leverages its popular communications tools such as AOL Instant Messenger, and the wealth of content that Time Warner brings to the table.
Parsons' comments came after investors Carl Icahn said he would sue AOL's Board of Directors if it sold AOL for less than its true value.
A deal with Microsoft would dislodge Google as AOL's search and paid listings provider and would create a combination that could rival Google for online ad dominance, at least to a greater extent than either AOL or MSN alone, analysts said.
Such a move would be a huge win for Microsoft, those analysts say, as it tries to gain traction for its in-house search engine, which it launched early this year.
It would also be a blow to Google, though that search company has seen the percentage of its overall revenue made up by AOL-derived search results and paid listings shrink as it has expanded its own ad network.
Though until recently considered a shell of its former self thanks to years of subscriber defection as broadband took hold, AOL has seen a revival of sorts as it has thrown open its network of sites to the general Web population.
Deal Near?
Neither Google nor Microsoft would comment on reports of a deal being imminent, but The Wall Street Journal reported an announcement could come before the end of the year. One scenario bandied about has no money changing hands but instead a complex agreement struck to combine advertising efforts, with MSN Search and related tools used to deliver ads across the AOL family of sites.
That report also said that it was still possible that AOL could reverse course and embrace Google by striking a long-term deal with the search leader. One sticking point appears to be whether AOL would be guaranteed minimum ad revenue figures over the course of a deal, something Microsoft is wiling to do but Google reportedly is balking at.
AOL-MSN combined would have access to 140 million U.S. Web users, each month, vaulting the combination ahead of Yahoo, which draws 122 million users and Google, which attracts about 86 million
A partnership between AOL and Microsoft would also be an outcropping of the US$750 million settlement reached between the two in 2003, which settled long-standing antit-trust issues stemming from the Netscape browser's virtual demise. That agreement included a sharing of technology, but few specific examples of that cooperation have emerged.
Reversing Course
Keeping AOL would represent a complete turnaround for Time Warner, which had long been known to be laying various plans for spinning off or selling the unit, which had become a drag on profits.
But that was before Internet advertising entered another boom period, one that forecasts say will continue for some time as higher broadband penetration rates enable more multi-media marketing efforts that mimic TV ads.
Instead, AOL laid out a plan to move into the Web as a portal, launching AOL.com recently and seeking to build services on top of its messaging, blog and photo tools.
Forrester analyst Charlene Li said Time Warner may realize that some of the value seen long ago when AOL merged with the media giant is now starting to bear fruit amid the video-to-the-Web revolution and other changes.
But AOL also lacks its own advertisement deployment technology as well as its own search engine, something that MSN would bring to the table. MSN, on the other hand, is in the early stages of developing its own ad-serving network to rival Google's, with testing now under way in some markets.
"AOL has the structure in place to be a player, but it lacks some of the key tools," Li said. "A partnership could give it access to those tools and give a partner access to millions of users in return."
There have been signs that AOL was either bulking up to increase its value for a sale or preparing to go it alone. It bought MusicNow from Best Buy to establish a more robust digital music offerings, and with content from Time Warner division Warner Bros., launched an Internet TV site with full downloads of old TV shows available.