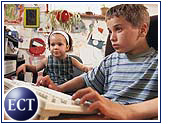 Seventy-five percent of children are willing to discloseprivate family information online in exchange for goods and services, according to a new report released by eMarketer.
The tendency of children to disclose such information is especially significant because the new U.S. Congress is gearing up for an Internet privacy battle on Capitol Hill, where protecting children online is bound totake center stage.
According to the report, children who are offered incentives, such as prizes, products or cash, are more likely to provide their family's personal information online.
Fifty-four percent of the children surveyed were willingto disclose the name of their parents' favorite store, while 26 percent werewilling to tell e-tailers about their parents' weekend activities.
"Children and teens were very casual about revealing family information," eMarketer analyst Rob Janes told theE-Commerce Times. "Itcan't be extrapolated accurately to the entire population, but it's a goodstrong indicator of how kids will respond to information online. It's anissue that parents should address."
Legal Questions
The eMarketer report also raises questions because in April, the Children's Online Privacy Protection Act (COPPA) wentinto effect, making it a federal offense for commercial Web sites to collectpersonal information from children under 13 without parental permission.
Under COPPA, Web sites must allow parents to review any information collected from a child, and must delete information at a parent's request.
"These numbers are not necessarily in violation of the law," Janes noted. "The report shows kids' willingness to give information online, it doesn'tsay how much they're actually doing it."
Selling Tips
According to the study, the information typically given by childrenonline tends to be marketing-related, instead of security breaches.
"The information is not the really serious information like credit card orSocial Security numbers," said Janes. "It's more stuff that's of value to a marketer, suchas product information, family activities, etc. It's more ofan educational issue for kids in learning how to use the Net."
Older Victims
Interestingly, the eMarketer report also found that the greatest percentage of usersfalling victim to online fraud are not children, but rather the Generation X and Baby Boom generations. According to the Internet Fraud Complaint Center, only 4.1 percent ofInternet frauds affect victims under the age of 20.
Auction sites are the primary source of Internet fraud, according to the report. Over 86 percent of e-fraudinstances in the year 2000 were directly attributed to online auctionactivity, the report said.
"The fraud issue really has more to do with how much shopping you're doing,particularly at auction sites," Janes said. "Second, there are the people who will fallvictim to various scams like work at home schemes, etc. Kids aren't going tobe doing that, they're not the major shoppers online."
Wise Words
In addition, those who shop more regularly and who have more experience on the Net are more likely to provide their personal information online, according to eMarketer.
The majority of users who are willing to share their personal informationwith Web sites do so to receive personalized services, the report said.
"Part of being online longer means you know what you want more specifically,and personalization offers a great deal of convenience for the user — they're making that tradeoff," Janes said.