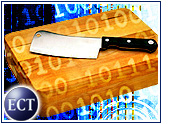 Increased productivity, made possible by new technologies, has been responsible for many of the record-setting job cuts of recent years, according to a report from outplacement firm Challenger, Gray & Christmas (CGC).
CGC said its survey of U.S. corporations found that the most productive industries top its list of companies that have made the largest staff cuts. While the economic slump is to blame for most layoffs, improvedproductivity, tied to several technological advancements, is a major contributing factor.
"It's no coincidence that the sectors with the biggest productivity gains are also the ones that have announced the most job cuts," CGC CEO John Challenger told the E-Commerce Times.
"These industries have made strides in improving efficiency through technology and other means, and, as a result, they require fewer people to do the work," Challenger said.
Retail Savings
The manufacturing industry was most affected by the shift in productivity, according to the report.
For instance, the firm cited Bureau of Labor Statistics data showing that makers of electronic components and accessories boosted productivity by 33 percent between 1997 and 2000. During the same period, those companies slashed 146,000 jobs, and they have cut another 165,000 since the beginning of 2001.
But the retail industry also saw shifts tied to technology and productivity, because the Internet and back-office computer systems helped speed up once-mundane tasks.
The survey found that retailers improved productivity by more than 18 percent per year between 1997 and 2000, with clothing retailers, electronics merchants and used-goods stores seeing the biggest gains. Retailers have cut about 400,000 jobs since 1997 as well, according to CGC.
"Time-saving technology means that fewer people, using fewer hours, can produce the same — if not a greater amount — of goods and services," Challenger noted.
Permanent Marker
Meanwhile, the use of temporary workers is feeding the trend, allowing companies to be more productive without adding full-time employees.
Temporary staffing firms have added more than 120,000 jobs since the start of this year, according to the report, and the staffing industry has more than tripled in size in the past six years.
"Temporary workers allow a company to achieve its output goals without the costs of benefits or severance, which are generally not afforded to temporary workers," Challenger said.
Bright Side
The good news for workers, the study noted, is that companies that have most improved productivity and most dramatically cut jobs during the economic downturn will be in the best position to grow quickly when the economic recovery begins.
"We are likely to discover that areas that appear to be struggling now — including telecom, computers and retail — will be the biggest winners," Challenger said.
Meanwhile, job cuts continue. In May, more than 2,000 jobs were eliminated in the dot-com sector alone, ending a short-lived run of decreasing layoffs.