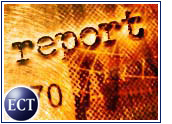 A new report released Tuesday by PC Data Online shows that traditional and catalog retailers are beginning to flex considerable muscle in today's super-competitive e-tail space.
As part of its "Top 20 Buying Meter Report" for October, the Reston, Virginia-based research firm found that Amazon.com retained its top ranking among online vendors for the month, racking up more than 1.5 million buyers and 21.6 million unique visitors for the month.
However, among the retailers cracking PC Data's top 20 were JCPenney.com, Sears.com, Spiegel.com, Landsend.com and Gap.com.
Physicality Matters
In fact, half of the top 20 e-tailers had an established physical presence before opening an Internet arm, possibly signifying that many consumers have more confidence in stores they patronize in the real world than in pure-plays.
"Traditional retailers are becoming a force online this year," said Cameron Meierhoefer, Internet analyst for PC Data Online. "Last holiday season, online retailing was seen as a threat to traditional brick-and-mortar retailers. This year these retailers are benefiting the most from the growth in online shopping."
Who's Browsing, Who's Buying?
Spiegel.com had the highest buy rate percentage — 15 percent — among the firms on the list, followed by Drugstore.com at 14.2 percent and Ticketmaster.com at 12 percent.
By comparison, Amazon had a 7.1 percent buy rate among users, despite having the greatest overall reach among other top e-tailers. According to the report, Amazon reached over a quarter of surveyed Internet users.
Bark from the Grave
Defunct Amazon-backed pet supplies retailer Pets.com made a farewell appearance in the tracking report, securing the No. 12 spot among Web marketers with 147,000 projected buyers.
Last week, the cash-strapped company shuttered its doors and laid off 255 of its 320 employees. Pets.com said it plans to sell off the majority of its assets, including inventory, distribution center equipment, URLs, content and the rights to its Sock Puppet marketing mascot.
About the Report
For its October report, PC Data Online measured the Web purchases of 120,000 home Internet users in the U.S., Canada, Australia, Taiwan, China, Hong Kong and Italy. Each buyer was counted once, regardless of how many times purchases were made from a site.
Researchers only considered Internet retailers that allow users to purchase merchandise. Shopping domains that provide free downloads, product reviews or purchasing incentives, as well as auction, travel reservation or financial service sites, were not included.