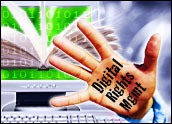 A healthy balance between the interests of copyright creators and of users is key to fostering innovation in the Internet environment, according to a report published this week by the Committee for Economic Development.
The Washington, D.C.-based think tank, which is made up of senior business executives, warned in its report, entitled "Promoting Innovation and Economic Growth: The Special Problem of Digital Intellectual Property," that there should be no rush to judgment that favors existing business models over new ones.
"What we have learned from our experience with the internet, is that the best rules are those that allow for the possibility of previously uncontemplated uses," the report said.
Beware of Big Government
The CED is wary of too much government involvement in digital rights management (DRM). Rather, it favors private-enterprise development of DRM tools that can protect creators while providing a mere "speed bump" for consumers.
The report calls for a discussion into finding both simple and complex market-based economic tools to solve intellectual-property problems — such as allowing an author to enter works into the public domain before the statutory requirement expires, or establishing an ASCAP/BMI-based association for collection of micropayments from digital downloaders.
"We believe this economic perspective — and in particular an understanding of thesequential nature of innovation — has not been adequately taken into account in the public debate," the report stated.
Learn from Radio and TV
The CED added that it is not too late to balance the debate and protect the industry so content owners can innovate as they did with other disruptive technologies, such as radio, television and the VCR. There is still time, the organization said, for the doctrine of "fair use" to be truly taken into consideration.
"It is not too late for thoughtful discussion to find solutions that willprove broadly acceptable and encourage self-enforcement rather than an increase in litigation or regulation," the report said.
Thick as Thieves
Luke Gordon, a lawyer with Goldman Sachs, said the biggest problem facing the supply side of the content business is fear.
"Most content owners, whether they be music companies or publishing houses, are terrified of the Internet," Gordon told the E-Commerce Times.
He said the rights of users are important, but because many users are perceived as thieves in today's industry climate, it is hard for companies to be sympathetic toward them.
"If people could sneak into Macy's under the cover of darkness and steal merchandise at no risk, many would do so," Gordon said.
He added that movie studios are in the best position because it will be a while before feature-length films are easy for most people to download via peer-to-peer networks.