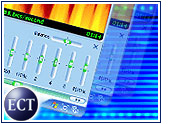 Microsoft has reached a deal with The Walt Disney Co. to help Disney deliver content over the Internet and to mobile devices using Microsoft's digital rights management (DRM) technology to prevent piracy.
The deal boosts Microsoft's bid to establish its DRM technology as the standard for delivering and protecting digital media.
Disney films earned more than those produced by any other studio worldwide in 2003, and the company's vault of well-known films could become valuable commodities in digital form. Disney also oversees a large nonmovie media empire that includes the various ESPN offerings as well as the ABC television network.
Disney already is at the cutting edge of digital content delivery, having launched a test version of an on-demand movie service, called MovieBeam, in several U.S. markets last fall.
Options Open
Disney emphasized the deal with Microsoft is not exclusive, leaving it free to secure digital content through other methods as well.
In terms of what Microsoft will get from the deal, Microsoft vice president Will Poole said the agreement will speed content delivery to Windows-based devices, such as Windows XP Media Center PCs, high-definition televisions and still-to-come portable media players.
"Together, we aim to prove that the distribution and consumption of digital media can be done in ways that benefit everyone," Poole said.
Content with Content
IDC analyst Susan Kevorkian told the E-Commerce Times that Microsoft is working to secure its place in the in-home digital entertainment niche.Part of the company's strategy is to target the content delivery side, rather than relying on consumer preference to carry its standard.
In the past year, nearly every major computer equipment maker has made known its plans to produce hardware — from portable media players to high-end televisions — designed to make the transition from the office to the living room. However, analysts have said that without a steady stream of desirable content, consumers might not rush to adopt the new technologies.
Indeed, Kevorkian said, Microsoft likely is eager to use readily available Disney content to entice consumers to buy its portable digital media player, which will handle video as well as music, when it is released later this year.
Monkey See
Other movie studios likely are watching the Disney-Microsoft deal with interest.
"The movie studios recognize the opportunity that's emerging, but they are also taking their time because they want to avoid the widespread piracy that music experienced," Kevorkian told the E-CommerceTimes. "If one device comes with a promise of having a stockpile of movies already ready to go, that's going to appeal to consumers."
Studios taking a wait-and-see approach may be swayed by the Disney-Microsoft partnership. "If other studios see that Disney has found a way to protect its content while also expanding its delivery options, that's going to be very enticing," Kevorkian said.
Not a New Focus
Microsoft has had its eye on the digital rights protection arena for some time, investing as early as April 2000 in a joint venture with Xerox aimed at developing content protections. Additionally, Microsoft's US$750 million settlement of the Netscape browser battle with Time Warner included a provision for the two companies to work together on digital content delivery options.
The software giant has tried to make digital rights management a cornerstone of its enterprise security strategy as well, giving corporate computer users the ability to lock sensitive documents and strictly control who can open and modify them. But digital rights technology is a much easier sell in the entertainment world, where the value proposition is much easier to calculate, said Gartner analyst Ray Wagner.
"A corporation might see the wisdom in locking down documents, but then they have to decide the expense of the technology and training is worth it," Wagner told the E-Commerce Times. "For a media company that is either going to get a payment to stream a movie or see it given away for free, the up-front costs are a lot easier to justify."