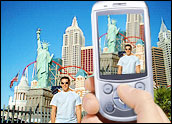 Sales of mobile phones that double as digital cameras have soared during 2005, with nearly 300 million such handsets expected to be sold before year's end, according to new projections from Gartner.
Camera phone sales will reach 295.5 million units this year and represent 38 percent of overall mobile phone sales, compared to 14 percent a year ago.
The data underscores the shift in the mobile handset market away from single-function phones to devices packed with features. Others say such phones will be among the hottest selling technology items during the 2005 holiday season now in full swing.
Gartner principal analyst Carolina Milanesi said the mobile camera phone trend, like many of the other trends in the cell phone space, began in markets such as South Korea and Japan.
"It has quickly become a global phenomenon as mobile phone users around the world have been captivated by the idea of integrating two devices — a digital camera and a phone — in one," she said.
Gartner said that the rapidly declining costs of integrating cameras into phones will lead to more consumer choice and even more adoption of integrated devices going forward.
Growth Spurt
Gartner said more than half of all phones sold in the Western Europe market will have built-in cameras and that within four years, 90 percent of all handsets sold in that market will be camera phones.
The numbers are slightly lower in North America. Gartner said 70 million camera phones will be sold this year, 47 percent of total device sales and an increase from last year of just under 20 percent.
In Japan, Milanesi noted, some 92 percent of all phones sold this year will have cameras in them.
Stocking Stuffers
Sales figures on phones for the holiday season in the U.S. back the Gartner data and suggest that people want mainly phones with cameras — and other features — already built in.
According to Wirefly, a comparison shopping site for cell phones and other wireless services, all five of the top-selling phones for Cyber Monday had cameras built in.
Wirefly, which reported a 200 percent increase in traffic on the Monday after Thanksgiving compared to the same day a year ago, said four of the the five best-selling phones on that day included the Motorola RAZR V3, the Motorola e815, the Nokia 6102 and the PalmOne Treo 650, all of which have built-in high-resolution cameras.
Mobile handsets with multiple functions are largely seen helping to keep the growth of the cell phone market going, despite predictions late in 2004 that this year would see a slowdown.
The NPD Group reported recently reported that sales were up 7 percent in the third quarter, with smartphones and other integrated devices providing most of the growth.