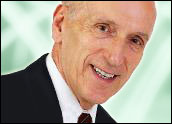 There is a great deal of talk today about our carbon footprint — referring to greenhouse gas emissions caused by industry and/or consumers — and how critical it is to our planet to reduce these emissions.
Companies such as General Electric (GE) have begun to fully realize that reducing our carbon footprint is not only good for the environment, but is also good for the bottom line. Consequently, GE is investing hundreds of millions of dollars into green technology in order to profit from this worthy endeavor.
Smaller Companies Profiting
GE isn't the only player in this relatively new field. Smaller companies are also doing exciting things in this area.
---

Listen to Ted di Stefano (8:10 minutes)
---
An example of one of those companies is National Energy Services Company (NESC). NESC is a national energy conservation company based out of New Jersey whose stock is publicly traded (NEGS.OB).
NESC specializes in energy reduction programs for industry, including hospitality, commercial and healthcare companies. The company has a unique approach to helping industries reduce their emissions. This approach stresses how profitable energy reduction programs can be, and how quickly such investments both pay for themselves and create a handsome return.
In the past, our firm has done advisory work for National Energy and it's been fun to see the company grow. In a recent conversation with John Grillo, the president of NESC, concerning the company's growth and how it is sustaining that growth, John told me, "Once I explain to a prospective client how profitable going green is through reducing a company's energy consumption, our company usually gains a new customer."
Energy-Reduction Programs
Mr. Grillo explained to me that NESC has several energy reduction programs. Something as simple as installing energy efficient lighting can save a large company tens of thousands of dollars per year. Other programs rely on state of the art technology to reduce a business's energy costs.
While most of us think of ozone as a not-too-beneficial gas, we also know the earth would really heat up if we didn't have a protective ozone layer. But, have you ever heard of using ozone to reduce laundry costs?
NESC has a technological process whereby it actually injects ozone into laundry water, thereby drastically reducing the amount of water, chemicals and energy needed to adequately cleanse linens. You might ask, "How much of a difference will this really make in reducing energy?"
Think about how many industries rely heavily on laundering clothes and linens, and you'll get an idea of how enormous the energy savings potential is. NESC's clients are in the hospitality industry (hotels), healthcare facilities (hospitals, assisted living facilities and nursing homes), as well as other large energy users.
Using State-of-the-Art Technology
NESC has teamed up with EnergyICT, an international wireless energy management provider, in helping NESC's clients reduce energy costs. It does this by using Energy ICT's energy management system. This system gives a company immediate access to how much energy it is using at a specific time.
Having instant knowledge of how much energy a company is using is much better than waiting 45 days for the utility bill to arrive. This real-time metering gives a company the unique opportunity to take action when action is needed.
The system used by NESC has preset demand-limiting triggers. This is done through a wireless system that can control virtually any piece of equipment, including HVAC (heating, ventilation and air-conditioning), fans, pumps, motors, lighting and heating elements.
The theory behind this Web-based wireless system is to operate equipment when it is most cost-effective and to shed load demand when it becomes expensive. This comes with real-time pricing so that management can know when to best use energy and how much energy to use at different times.
Demand Response Programs
Another program that aids a company in reducing its energy consumption is one that NESC calls its "Demand Response Program." This program allows clients with emergency generators, such as hospitals, hotels, etc., to actually transfer its energy demand to its on-site backup equipment for short periods of time.
Simply put, many large businesses have emergency generators that are just sitting there waiting for an emergency. What this program does is put these backup systems to work at times when energy cost is highest, e.g., midday during summer months.
An additional feature to the company's Demand Response Program is its forward-looking energy forecasting capability. For example, if a business knows that its demand for energy is going to be greater at a certain time, it makes economic sense to either pre-heat or pre-cool certain areas of a facility when the cost of doing so is at its lowest.
These programs work well because they are seamless and "invisible" to management. That is, once management observes when its peak energy demand and energy costs will be, the system gives it alternative ways by which to reduce demand or shift consumption to an economically more attractive time.
Keeping an Eye on Energy Costs
Most businesses are very aware that we need to reduce energy consumption and that we can do so without seriously impacting our lifestyle. Large companies like GE and smaller companies like NESC make energy reduction an easily attainable goal, thereby reducing our carbon footprint.
Besides helping our environment, businesses are now saving money by being energy-conscious. This way, everybody wins.
Good luck!
---
Theodore F. di Stefano
is a founder and managing partner at
Capital Source Partners
, which provides a wide range of investment banking services to the small and medium-sized business. He is also a frequent speaker to business groups on financial and corporate governance matters. He can be contacted at
[email protected]
.
---