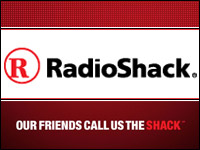 Consumer electronics retailer RadioShack announced Wednesday that it will begin pushing Microsoft Internet services through store-based kiosks across the United States.
The kiosks, dubbed "Microsoft Internet Centers," are currently located in 5,800 RadioShack stores around the United States. In addition to offering other Microsoft-related products such as WebTV, the centers will introduce consumers to MSN HighSpeed Internet access via DSL service provided by NorthPoint Communications Group.
In November, the centers will also begin offering satellite service to consumers for $59.95 (US$) per month, with an initial cost of $299 for a satellite dish and a one-year mandatory commitment. The satellite service will be offered through StarBand.
Microsoft confirmed that it has stakes in both NorthPoint and StarBand.
Under the terms of an alliance signed late last year, RadioShack agreed to help Microsoft deliver online services to customers. For its part, Microsoft agreed to invest $100 million to upgrade Radio Shack's Web site to a state-of-the-art e-commerce destination and provide Radio Shack stores with free DSL service.
ISP Strategy
The new promotional drive is seen as another attempt by Microsoft to penetrate the ISP market more deeply and compete with America Online (AOL).
Earlier this month, MSN announced it would give free WebTV access — including a $199 set-top box and $49 keyboard — to new subscribers at the same time that AOL introduced its own AOLTV service in several additional locations.
Last year, while Microsoft was tied up with its federal antitrust case, AOL forged partnerships with retailers such as CompUSA and Circuit City to increase the membership of its CompuServe subsidiary.
DSL Not Just An 'Elite Service'
Despite skepticism that RadioShack's traditional customer base will not be interested in what is still seen as an elite service, MSN's product manager for marketing Amanda Casemore believes that the public's perception of DSL is changing.
"People are a little intimidated right now by broadband, because they don't know about it. But that will change quickly, and services like DSL will not be considered 'elite' for very much longer," Casemore said.
Noted Rick Belluzzo, group vice president of the Personal Devices Group at Microsoft, "Our strong alliance with RadioShack is an important first step in our comprehensive broadband offering."
RadioShack is among the largest consumer electronics retailers in the United States, with over 7,100 stores and dealers.