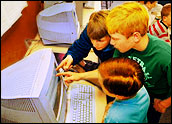 Back-to-school activity boosted online spending in August, according to a new study released by the National Retail Federation and Forrester Research (Nasdaq: FORR).
"Apparel and footwear were among two of the largest-growing, small-item categories in August, which we attribute to school starting up again," said David M. Cooperstein, research director at Forrester. "On the other hand, online sales of sporting goods, tools and hardware and garden supplies all decreased from July to August — summer is clearly over."
Spending on footwear and apparel rose from $215 million (US$) in July to $249 million in August, according to the study, which was released in conjunction with marketing research firm Greenfield Online.
Money Spent
The study also showed that total online spending increased from $4 billion in July to $4.2 billion in August. Fifteen million households shopped online in August, spending an average of $280 per person.
In the "small-ticket" category, linens/home decor experienced a significant increase of 19 percent from July to August. There was a 14 percent increase in online sales in music for the same time period.
Online sales increased in six out of nine "big-ticket" categories. Computer hardware was the leader of the pack, jumping from $377 million in July to $431 million in August — a 14 percent increase.
Appliances was hit with the biggest slump, with sales dipping from $50 million in July to $19 million in August. Scott Silverman, vice president of Internet Retaling for the NRF, said he had no specific theory for the slump in that category, but that it might have to do with the season.
"In the summertime, people are away from their computers more, and that might have something to do with it," Silverman told the E-Commerce Times.
Trend Spotting
Silverman said the NRF recommends that its members and other retailers look at the online spending studies to see if there are any emerging trends that be can used in marketing and sales strategies.
"What will be really exciting is when, next January, we can start to compare, by month, this year's stats with next year's stats," Silverman said. "That's when we'll really begin to understand online shopping behavior and trends, and how they compare and are different from other retail trends."
About the Study
The NRF/Forrester Online Retail Index measures the growth and seasonality of online shopping, based on data collected from online shoppers.
The Index is based on 5,000 responses during the first 10 business days of the month, from an online panel developed by Greenfield Online.