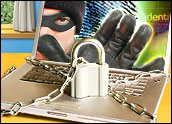 A number of leading U.S. e-commerce merchants and payment processing companies announced Monday the formation of the Worldwide E-Commerce Fraud Prevention Network, an industry coalition aimed at reducing Internet-based fraud.
The coalition, which includes American Express, Buy.com and Expedia, intends to use the newly formed network to share fraud prevention information and practices with merchants in order to improve Web security and reduce the costs associated with fraud.
According to William Donahoo, vice-president of marketing for security software maker Cybersource, the cost of online fraud is already huge, and only going to get bigger.
"Online credit card fraud is projected to cost merchants $9 billion (US$) dollars annually by next year," Donahoo told the E-Commerce Times.
Unaware of Liability
One of the main concerns for coalition members is that merchants often bear the cost of fraud when stolen cards are used to purchase goods at their site. Notably, many merchants are not aware of their degree of liability.
"More than 41 percent of the merchants we canvassed didn't know that they — not the credit card companies — are liable for fraud," Donahoo said.
The new fraud prevention network hopes to share information and expertise on fraud among its various members by bringing together diverse sectors of e-commerce with a variety of fraud prevention expertise.
"The Worldwide E-Commerce Fraud Prevention Network has the potential to do what no other fraud prevention group is doing: prioritize merchant concerns and identify specific solutions for resolving those issues," said Steve Squeri, president of Establishment Services in Canada and the United States.
Fraud Network's Agenda
The Network will conduct a number of activities to promote increased Web security, including:
Holding fraud prevention workshops.
Using Gartner Group, Inc. to conduct an independent study evaluating future fraud prevention solutions. The results of the study, available later this year, will be shared with all Network members.
Working with Gartner to provide Network members with quarterly white papers on specific fraud prevention topics.
The Fraud Prevention Network Web site will serve as a clearinghouse for information about the best fraud prevention practices, software vendors, security seminars, law enforcement organizations and current fraud prevention trends. To help promote consumer confidence in e-commerce, the site will also include tips for shopping safely online.
The Network also expects to partner with consumer groups, law enforcement, better business bureaus and other fraud prevention organizations to provide information and encourage best practices.