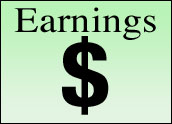 Qwest Communications' first-quarter profit nearly tripled despite slightly lower revenue as cost-cutting measures paid off and customers moved toward more high-end data services, the company stated Tuesday.
The Denver-based company posted profit of US$240 million, or 12 cents a share, compared with $88 million in the first quarter of last year. Revenue came in at $3.45 billion, down 1 percent from $3.48 billion in the year-ago quarter and below analyst forecasts that called for $3.49 billion on average.
Like other telecoms such as AT&T and Verizon and some cable companies, Qwest's results were boosted by increased sales of higher-end service packages to customers as traditional voice service continues to become less important to the company's bottom line.
A 'Disciplined Approach'
Qwest, which provides a range of phone and Internet services mainly in the West and Midwest, and also operates a national fiber-optic network on which it wholesales space to broadband service providers, benefited from internal cost-cutting moves undertaken in the previous quarter.
The company will continue to embrace a "disciplined approach" to its operations and is benefiting from reduced federal regulation as well, CEO Richard Notebaert said. Qwest's recent win of part of the massive Networx contract from the federal General Services Administration (GSA) will help "provide significant opportunities for Qwest throughout the year and beyond," he added.
Qwest shares rose more than 2 percent in midday trading Tuesday to $9.08.
Making a Bundle
Following the trend set by other, larger telecommunications companies, Qwest said its results were boosted by sales of bundled services, with revenue from data, high-speed Internet and video sales up 11 percent year-over-year, while traditional wire-line phone service continued to decline.
The number of customers buying basic phone service from Qwest fell 6.8 percent to 13.6 million, Notebaert said.
The percentage of customers who are eligible to buy multiple services from the company and actually subscribe to them rose to 59 percent in the quarter, up from 53 percent the year before, the company stated. Internal data also suggest those customers who buy bundles are less likely to leave for competitors and more likely to spend more each month, helping to drive the average revenue per user higher by more than 6 percent to $52.
Qwest had hoped to acquire MCI and even outbid rival Baby Bell Verizon for the right to buy the long-distance company, but MCI in the end decided to partner with Verizon, citing a stronger balance sheet. More recently, Qwest purchased OnFiber, which makes custom fiber-optics networks for large enterprises, to further round out its business-facing offerings.
Help From Uncle Sam
Lately, Qwest has made headlines because of the trial of former CEO Joseph Nacchio, who was convicted last month on 19 counts of insider trading in connection with his selling off of stock at a time just before Qwest felt the full impact of the dot-com bubble bursting in 2001.
The company weathered that storm — and the related restatement of some $2.2 billion in revenue — without much damage, however, and recently got some good news in the form of a share of the Networx contract bidding rights, which will be worth some $20 billion in coming years.
Qwest was a key beneficiary of the massive GSA contract, though it will share the prize with several other telco firms, telecom analyst Jeff Kagan told the E-Commerce Times.
"Winning a part of the government contract will help the company during the next few years," he said.
Qwest has also taken a more quiet approach to building a robust bundle of services, reselling Sprint Nextel wireless services, for instance, and offering DirecTV in areas that can't get the company's own television feed.
"Qwest is taking a much quieter and more conservative position as the industry changes," Kagan added. "They are not talking about offering the same services in the battle between the phone companies and the cable television companies. However, it is not hurting them at this point."