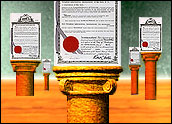 While the term "startup" is often associated with high-tech companies, it can readily be applied to any company that is in an early phase of development and market research.
From a financial perspective, startups may have more potential for rapid growth — compared to established businesses — due to their lower costs, higher risks and higher potential for return on investment. Building on that notion, investors have been more attracted to those startups with attractive risk/reward profiles in addition to that ability for growth or scalability.
Up to 75 percent of the value of a U.S. publicly traded company is solely based upon its intellectual property, according to estimates published in The Economist magazine. That figure stands in stark comparison to the 40 percent that intellectual property provided to the value of a company back in 1980.
Oftentimes, 100 percent of the value of a startup company may be based on the company's intellectual property. If a company's value is based upon its technology or its branding, it is vital that the startup entrepreneur take the appropriate steps to protect its intellectual property.
Beyond the obvious deterrent to competitors, having a well-articulated and coordinated intellectual property portfolio may be the difference between a winning and losing pitch when seeking additional funding from a venture capitalist or an angel investor. Whether it's a U.S. trademark registration or a Canadian patent application, demonstrable protection of intellectual property may be the key to the overall success and longevity of any startup company.
The term intellectual property is a broad term that generally applies to the rights conferred by trademark, patent, copyright and industrial design. Of these rights, of particular interest to the startup company may be its growing trademark and patent portfolio.
Trademark Power
A trademark is a distinctive word, design or combination thereof used by an individual or business to distinguish its products or services from those of other entities. While trademarks are associated with actual goods and services, a trademark also stands for the overall goodwill and reputation of a business in the minds of consumers.
One should never underestimate the power of the trademark. If used properly, trademark protection may last indefinitely and, as such, is often viewed as the most important intellectual property that a company can own. A prime example is the U.S. trademark for Coca-Cola. The first U.S. Coca-cola trademark was registered on January 31, 1893. Over one hundred years later, a president of Coca-Cola stated "that the corporation's buildings, machinery, equipment, vehicles and physical property could all be destroyed, but that the business would have no trouble getting back on its feet, provided the trademark survived."
Coca-Cola does not stand alone with this view. Other global companies, such as Michelin, Levi Strauss and the high-tech company Intel, consider their trademarks to be their most valuable assets.
It should be noted that even if a company's products are not in the marketplace, most jurisdictions permit the filing of trademarks on the basis of intent to use. This intent to use or proposed use basis allows a company to plan ahead and reserve the proposed trademark before investing considerable amounts of capital in marketing and branding only to learn that the mark has already been taken by a competitor.
Protecting Patents
While more technical in nature than a trademark, patent protection may cover any new and useful art, process, machine, manufacture or composition of matter, or any new and useful improvement in any art, process, machine, manufacture or composition of matter.
Patent protection may confer upon the patent holder an exclusive right to exclude others from making, using or selling his or her invention in that country during the life of the patent. Unlike trademark protection however, the lifetime of a patent does not last indefinitely and is fixed at twenty (20) years from the date of filing.
Experts agree that today's economy is knowledge-driven and patents play an integral role. Building on that statement, it is not surprising that between the years of 1992 and 2002, the number of patent applications filed in Europe, Japan and the United States grew by more than 40 percent.
Similar to guarding trademarks, proper patent protection may be the key to success for an emerging startup organization.
Advance Planning
In terms of moving forward, it would be prudent for any startup to ensure that it is addressing at least the following steps:
Develop an intellectual property strategy that delineates the scope of protection that is required;
Seek professional help. Intellectual property should not be taken lightly and professional guidance (i.e. patent and/or trademark agent) should be sought;
Budget accordingly. Filing fees, drafting fees, translation fees do add up;
Get informed. Learn the process associated with filing, the costs and the waiting periods; and
Stay on top of your competitors. Constantly canvass the market and the literature to ensure that your intellectual property is not being infringed.
---
C. Donald Brown
is an intellectual property lawyer at
Heydary Hamilton
. His practice includes patents, trademarks, copyrights and industrial designs, as well as IT matters.
---