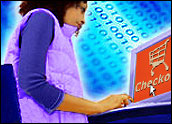 In a recent decision by the United States Patent and Trademark Office (USPTO), the controversial Amazon 1-Click Patent (US 5,960,411) was finally approved following a four year re-examination.
The 1-Click Patent has been the subject of much criticism and debate since it was originally filed back in 1997. Many critics cite concerns with the breadth of the patent protection applied for and subsequently approved. Others express concerns over the subject matter itself, and whether the largely software-implemented single click or 1-click method in which an online shopper can trigger a payment for services or goods is in fact patentable subject matter.
More specifically, the 1-Click Patent entitled "Method and System for Placing a Purchase Order via a Communications Network" is directed toward a method in which an online customer need only enter account information once so that any subsequent purchases made at the Web site may be accommodated through a single button click — hence the name "1-Click Patent."
Outcry Over 'Obviousness'
The ex parte re-examination itself was triggered back in 2006 when New Zealand actor Peter Calveley requested the re-examination. Calveley has a Web-accessible blog,IGDMLGD, devoted to his experience with the re-examination process and is a staunch critic of the present post-grant opposition procedures.
"The fact that 'one click shopping' is obvious from a common-sense viewpoint was what caused the public outcry in the first place," Calveley said in a recent posting to the blog, "so one would think the USPTO would want to conduct a serious examination of this aspect rather than essentially ignoring it as they did."
However, despite his personal views regarding the obviousness of the 1-Click Patent, Calveley's successful re-examination application was essentially based upon two main groups of prior art not previously addressed by the USPTO:
"On-line Secured Financial Transaction System Through Electronic Media" (US 5,729,594); and
an excerpt of an article written by Stephen Levy — "The End of Money?" (Newsweek pp. 62-65 October 30 1995):

"You're cruising the net, hopping from link to link with your favorite browser. In a small window in the corner of your screen sits a ledger. '$100.00' it reads. As you land on a favorite Web site, something strikes your fancy — an annotated bibliography of every article ever written about Sandra Bullock! Only five bucks. You click on a button, and the file is downloaded to your computer. That tiny ledger on your screen now reads '$95.00.'"
Based upon those two families of prior art, Calveley caused quite a furor, and the USPTO subsequently forced Amazon to amend claims 1-5 and claims 11-26 of its 1-Click Patent.
The USPTO indicated that it would allow the remaining claims after Amazon amended the other claims, basing them on a "shopping cart model," according to the recently issued "Notice of Intent to Issue Re-examination Certificate."
Waiting for Bilski
Despite the successful re-examination and mandated amendments, other criticisms have surfaced.
"The modified patent is still quite broad — especially since the leading retail e-commerce model still uses shopping carts," argued Dennis Crouch, an assistant professor at the University of Missouri School of Law and an editor of the patent law blog Patently-O.
"This case may be a public relations boon for supporters of patent reform that have been calling for an overhaul of the re-examination system," Crouch said.
On the other hand, Calveley, the catalyst behind the re-examination, appeared to be quite optimistic and satisfied with the recent USPTO decision as evidenced by a recent post on his blog regarding the amended 1-Click Patent: "Despite the Amazon corporate spin permeating the Web, the amendment of the claims was significant and opens the way to the use of one-click shopping in a wide range of settings, and would be very useful, for example in mobile devices where people do not want to wade through a shopping cart."
Needless to say, both supporters and detractors alike of the 1-Click Patent — or software-based business methods in general — will be anxiously waiting for the decision of the U.S. Supreme Court in Bernard Bilski and Rand Warsaw v. David Kappos, which is expected in April, 2010. Many believe that Bilski will have far-reaching implications on the patentability of future software-based business methods, as well as ramifications with respect to overall USPTO operating practice.
---
C. Donald Brown
is an intellectual property lawyer at
Heydary Hamilton
. His practice includes patents, trademarks, copyrights and industrial designs, as well as IT matters.