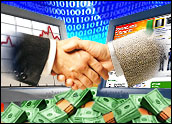 Two private equity firms have agreed to buy Clear Channel Communications (NYSE: CCU) for US$18.7 billion, ending weeks of speculation about the sprawling radio network's fate, including rumors of interest from Google.
Clear Channel said Thursday it would be acquired by Thomas H. Lee Partners and Bain Capital Partners, two giant Boston-based equity and buyout firms. The total value of the deal is around $26.7 billion, which includes the assumption of some $8 billion in debt that has been weighing down Clear Channel's balance sheet.
Cashing In
Stockholders in the radio firm will get $37.60 in cash per share, which the company said represents a 25 percent premium over recent average trading prices. The two firms reportedly outbid another consortium of private investors.
The company has until Dec. 7 to receive additional offers and then another month to negotiate final terms.
Clear Channel CEO Mark Mays — whose family members gave up rights to some equity claims to close the deal — said the agreement "provides substantial value to our shareholders." He added that the resources will enable it to "continue our business plan to provide exceptional programming to our audiences and value to our advertising partners."
Clear Channel, which runs about 1,100 radio stations nationwide, also said it would divest itself of some of its smaller-market radio station assets, selling off 448 radio stations in selected markets as well as its small TV broadcasting division.
The sale comes at a time when the radio industry is facing more competitive pressure than ever from satellite and online alternatives.
Speculation Frenzy
Clear Channel also operates an extensive billboard advertising unit and the private buyers appear to believe they can find cost savings and new market opportunities for the business despite the challenges. The firms did not say what their plans were, but such transactions often lead to assets being sold off or businesses reconfigured and re-launched.
"Clear Channel has tremendous long-term growth opportunities in both the radio and outdoor businesses," said Scott Sperling, co-president of Thomas H. Lee Partners.
The company is "an exceptional media franchise that is well-positioned to grow," according to Bain Managing Partner John Connaughton.
Consummation of the transaction could be slowed by Lee's involvement in other media concerns, though the deal is expected to eventually pass regulatory muster. Lee was a lead investor in a group that bought the Spanish-language broadcaster Univision Communications in September for $12 billion.
Does Google Fit?
The rumors of Google striking a partnership or even becoming an owner of Clear Channel came as the search and Web advertising giant seeks to leverage its role as a marketing outlet in more offline channels. The company recently announced a plan to feed ads to 50 major newspapers across the country and the company is reportedly hiring advertising sales executives with radio experience.
A partnership or other arrangement is still not out of the question, according to Blogging Stocks Analyst Tom Taulli. "Google needs to find new markets in advertising to keep its valuation sky-high," Taulli told the E-Commerce Times. "By hooking-up with Clear Channel, Google [would] instantly get a big footprint in terms of market share and advertisers."
Overall, however, efficiency drives profit growth in the radio market as audiences continue to shrink. The private investors may believe radio is a good bet, however, because it has traditionally been a profitable medium, and buying an established network of stations means little capital investment will be needed in the short term.
"We remain cautious on the radio group," said Jonathan Jacoby, an analyst with Bank of America. "Audience erosion will continue to cap top-line growth over the next decade."