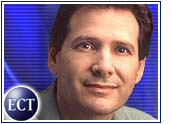 Name-your-price Internet service Priceline.com (Nasdaq: PCLN) announced Tuesday that it will make use of a large chunk of a $190 million (US$) purchase of its stock by two influential industry leaders to finance the expansion of WebHouse Club, the privately-held grocery and gasoline Internet service.
Company vice-chairman and founder Jay Walker said he intends to use $125 million of the after-tax proceeds of the stock purchase to continue a national expansion of the WebHouse Club.
Joining the Club
WebHouse Club is a licensee of the Priceline.com business method. Priceline has no business investment in the company, but holds a warrant to purchase a majority equity stake in the company if certain conditions are met.
Walker, a majority shareholder of Priceline.com, said Tuesday that the company sold eight million shares of common stock to Vulcan Ventures and Liberty Media. Vulcan Ventures, an investment company, is headed by Paul Allen, the co-founder of Microsoft, while Liberty Media is the cable-TV-programming unit of AT&T and is headed by TCI founder John Malone.
Both Vulcan Ventures and Liberty Media received a forward contract to purchase the shares and have a year to complete the title transaction. The two companies also received options to acquire an equity stake in Walker Digital, the software developer for Priceline.com.
"As founder of the WebHouse Club, this was a great opportunity for me to increase my support for WebHouse while bringing Priceline.com the long-term support of Internet visionaries like John Malone and Paul Allen," Walker said. "This forward contract adds no shares to the publicly traded float of Priceline.com and is in keeping with my history of not selling my Priceline.com shares in the public market."
Expanding the Club
WebHouse Club sells grocery and gasoline discounts in 10 markets across the U.S. and recently topped the one million mark in enrolled members. The company opened in New York, expanded quickly to Philadelphia, Pennsylvania; Washington, D.C.; Detroit, Michigan; and Baltimore, Maryland. Last week, WebHouse Club announced a further expansion to Ohio cities Dayton, Cincinnati and Columbus, as well as Louisville, Kentucky and Nashville, Tennessee.
The company reports that more than 5,000 local supermarkets have joined its network and that it has entered into agreements with over 120 branded consumer products. Its gasoline service — which allows consumers to lock in to per-gallon prices for one-month intervals at participating stations — priced over five million gallons during its first month of operation.
WebHouse Club results are not included in financial results for Priceline.com. The company recently reported second quarter revenues of $352 million, up $111 million from the same quarter in 1999.
Priceline also narrowed its net loss to $1.6 million for the quarter, down from $13.9 million in the second quarter of 1999.