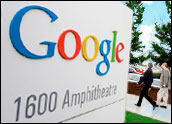 Google will buy on-demand Web security provider Postini for US$625 million in cash, a move that the search giant hopes will help lower a key hurdle to broader adoption of its on-demand, Web-based applications targeted at business users.
Privately held Postini serves some 35,000 businesses around the world, with about 10 million end users who receive e-mail and instant message security, archiving, encryption and other hosted security solutions from the firm. The company processes more than 1 billion messages per day.
The San Carlos, Calif.-based firm will become a wholly owned subsidiary of Google, which said it intends to continue to serve existing customers and invest in updating Postini's products. Google expects the deal to close by the end of the current quarter.
Reinforcing a Commitment
Postini announced earlier this year it was working with Google to develop security solutions for Gmail accounts.
"With this transaction, we're reinforcing our commitment to delivering compelling hosted applications to businesses of all sizes," said Google CEO Eric Schmidt. "With the addition of Postini, our apps are not just simple and appealing to users — they can also streamline the complex information security mandates within these organizations."
Postini will take a place alongside the growing Google Apps family of Web-based solutions aimed at businesses, such as Google Spreadsheets, Gmail, Google Talk and Google Calendar.
One Hurdle Down?
Google investors backed the announcement by driving the company's already high-flying stock to new highs on the news. Google shares traded up about 1 percent in late morning trading Monday to $544.91, a price that would mark a new all-time high closing price.
Google Apps is now used in some 100,000 businesses, with a thousand small and medium-sized businesses signing up for the tools every day, said Google Enterprise General Manager David Girouard. Larger businesses, meanwhile, have been reluctant to embrace the hosted application approach due to security and compliance issues. The Postini solutions will enable those businesses to get the higher level of security and compliance they need, he added.
"This is a clear statement that we are very committed to this business," Girouard said. "We are going to continue to innovate and bring more and more applications and services to businesses."
Schmidt and other Google executives said earlier this year the company would continue to make acquisitions where they made strategic sense for the company. The Postini buy is the third-largest takeover for Google, behind the $3.1 billion it paid for interactive advertising firm DoubleClick in April and the $1.65 billion YouTube deal made last year.
More recently, Google has focused its acquisitions on business-related tools and services, buying smaller firms such as the video-conferencing business of Marratech and another security-software maker, GreenBorder Technologies.
Google's Enterprise unit announced late last month it had signed a deal to have Ingram Micro act as a distributor of its Google Appliance and Google Mini search tools. Also in June, Google unveiled a much-rumored partnership with on-demand CRM (customer relations management) software provider Salesforce.com.
A New Google?
Security is one reason more large businesses aren't embracing on-demand applications, but not the only one, Eric Berridge, cofounder of on-demand consulting firm Bluewolf, told the E-Commerce Times.
Until recently, many businesses weren't comfortable with the on-demand model, though the success of companies such as Salesforce has started to change that. Still, most large businesses have invested heavily in hardware and software configurations to enable traditional, on-site applications.
"It's still very early for Web-based applications," Berridge said. "A lot of companies are still wedded to the old model of owning or licensing everything and having direct control over all that infrastructure. Companies are starting to get it more and more, but it's going to take time."
While much has been made of Google attacking Microsoft's turf with its Apps lineup, Google is also expanding the universe of potential users for business productivity applications, Forrester Research analyst Kyle McNabb told the E-Commerce Times.
"People who have never had access to those kinds of productivity tools now have them at their fingertips," McNabb said. Combined with the release of a new Office suite and other developments, the Google push is helping to spur new innovation in office productivity products, he added. "The impact goes beyond the adoption rates."
The eight-year-old Postini had received several rounds of venture funding, including a $10 million fourth round late in 2003, from August Capital, Bessemer Venture Partners, Mobius Venture Capital, Pacifica Fund, Summit Partners and Sun Microsystems' venture arm. Postini was rumored to be preparing for a possible IPO in recent weeks.