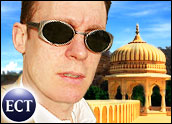 On Saturday night, Sept. 24, an undersea cable connecting Karachi, Pakistan, and Mumbai, India, to the West failed around 10:27 p.m. local time in Pakistan. The cable fault blocked 75 percent of Pakistan's Internet connectivity to the outside world and some voice traffic as well.
Service was restored at 1:25 a.m. the next day, but has left the high tech industry in the region jittery, particularly in Pakistan.
The service outage, however, is being overshadowed by the Government of Pakistan's pursuit of permanent restrictions on Internet use in order to raise revenue for the government-owned telephone company there.
During the service outage, Internet and call center traffic in Pakistan was shifted to 240 MB satellite backup facilities, which gives priority to call centers in Pakistan serving U.S. and UK customers. According Babar Jhumra, who runs the NBA Computers commercial call center in Karachi, his facility did not experience any loss of service or latency problems when it switched over to a satellite connection.
Anwar Kazi, who directs the new commercial call center in Karachi for Alt-Source.com, said that their voice services to the United States had also shifted over smoothly to satellite backup systems, but he lamented the impact on Internet users who do not have backup arrangements.
Economic Impacts
Consumers in Pakistan were reportedly hit hard by the outage, along with high tech firms that do not qualify for preferential satellite backup links. Saturday night is a time of heavy Internet use in that country.
The last major outage of this submarine cable largely cut Pakistan off from the outside world for 10 days and 8 hours (June 27 to July 8). During that outage, Indian call centers that rely solely on this cable to reach customers in the West were also without voice service to the West. But since India as a whole has redundant external Internet backbones, the extent of damage from that outage was small compared to the consequences in Pakistan.
Additional disruptions from the most recent outage were reported in Djibouti, where the cable fault reportedly originated. Traffic to the United Arab Emirates (U.A.E.) and Oman could have been disrupted as well, because those countries are part of the five-nation system linked by the undersea cable network called Southeast Asia, Middle East and Western Europe-3, also known as SEA-ME-WE3 or SMW3.
In October, service was scheduled to begin on new submarine cable, SEA-ME-WE4 (SMW4), that will connect Pakistan, India and Bangladesh to France. A cross-border connection between India and Pakistan is reportedly also being built.
However, in a statement released today to InternationalStaff.net by V.A. Abdi, Secretary of the Pakistan Internet Service Provider Association (ISPAK), Abdi questioned the government's ability to provide redundant connectivity as planned:
"One would recall that when the country was hit by an earlier blackout during June-July of this year, the Minister for IT&T [Information Technology and Telecommunications], Mr. Leghari, had informed the nation and the international media that within weeks an alternate cable route with India would be completed and the SEA-ME-WE4 cable system would also be completed by the end of September 2005. There seems to be no newson either of the two projects."
The Lahore, Pakistan-based Wateen group plans to connect Pakistan with western China, Afghanistan and the U.A.E. The Wateen connection into China could allow foreign firms to deliver content to China and other central Asian nations from servers hosted in Pakistan, which has a pro-Western business climate and no taxes on export-oriented IT products and services.
Critical Infrastructure Issues
According to Faruq Khan, VP of Karachi-based ARPATech Pvt. Ltd., which provides support and training for Linux, Apache, MySQL and PHP:
"In Pakistan, there is no concept of critical infrastructure. There are no risk models associated with this infrastructure. There are no in-line backup systems to provide redundancy to this infrastructure. For any commercial entity to rely on such an infrastructure for mission-critical services is foolhardy. Are the infrastructure providers at fault, or the businesses who refuse to accept the obvious?"

"It is for this very reason that we will remain relegated to a third-tier status in the IT world. Given all things equal in this world in terms of quality of resources, cost of business is the single most important element for the off-shore market. Capital expenditure for VSATs [satellite backup], 50 KVA backup power generation units, redundant Internet connections, loss of time and productivity through outages — all these have a direct negative impact on our competitiveness."
According to Faruq Khan, Pakistan's IT industry wants the government to provide reliable infrastructure and then to step aside and watch the IT industry grow. "You need the basics and then you need an unregulated market, and people usually find a way to succeed," he said.
Internet Service Providers Impacted
During the outage of September 24-25, "The satellite bandwidth provided was totally insufficient" to meet the needs of Pakistan's Internet service providers, said V.A. Abdi of ISPAK. According to Abdi, "The worst fear of ISPs is a sudden relapse of the problem." He said that the cause of the most recent failure has not been discovered.
ISPAK members were hit hard by the ten day outage in June and July because they had to simultaneously pay for satellite backup and for the Internet service that they failed to receive from the disabled submarine cable. Revenues to ISPs during that time from providing consumer dial-up services also suffered because consumers simply stopped buying prepaid Internet access cards. Prepaid cards are popular among Internet users who often switch back and forth among competing ISPs depending on which provider is offering the best service at the time.
On July 14, the board of directors of the Pakistan Telecommunication Company Limited (PTCL) directed the management of PTCL to provide compensation to ISPs. PTCL governs SMW3 use in Pakistan.
Efforts by ISPAK to negotiate a financial settlement between the ISPs and PTCL have since bogged down. The financial settlement that was being negotiated would have compensated ISPs for lost revenue from the June-July outage, but would not address the wider impacts on the economy from the Pakistan government's reliance on a single undersea cable.
Settlement efforts are now being overshadowed by larger tensions between ISPs and the Government of Pakistan.
Continuing Tensions
Relations between ISPs and the Government of Pakistan have become increasingly strained in recent weeks, as the Pakistan Telecommunications Authority (PTA) seeks to force ISPs to begin shutting down VoIP and other integrated voice and data services in the country. The agency is also attempting to force ISPs to keep records on broadband customers so as to further restrict Internet telephony use.
The sole reason for PTA's actions is to push voice traffic back out onto the circuit switched networks operated by PTCL, in which the government owns a majority share. Despite pleas to Pakistan's President Musharraf and intensive lobbying by ISPAK, the PTA is pressing forward.
Businesses around the world are rushing to integrate their voice and data communications networks so that everyone in a company and its supply chain and key customers can communicate on the same network. Everywhere now except Pakistan, which is being encouraged by the PTA to turn inward.
VoIP is an essential element for modern business. Without access to VoIP, many clients who would normally seek to do business with firms in Pakistan will simply go elsewhere. Without VoIP, Pakistan's vibrant private sector instantly becomes less competitive.
---
Anthony Mitchell
, an E-Commerce Times columnist, has beeninvolved with the Indian IT industry since 1987, specializing through
InternationalStaff.net
in offshore process migration, call center program management, turnkey software development and help desk management.
---