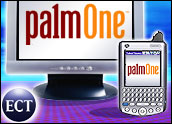 In its fourth quarter and as a result of higher demand for its handhelds and smartphones, PalmOne posted its first profit in its short history as a standalone company.
PalmOne, created last year when Palm separated its hardware and software units, said it brought in US$267.3 million in the quarter ending in May, up 23 percent from a year ago and up 10 percent over the third quarter. The Milpitas, California hardware maker posted a profit of $13.3 million, or 27 cents per share, compared to a loss of $15 million a year ago and a loss of $9.3 million in the third quarter.
Our strategy is working, CEO Todd Bradley said in a conference call. Demand for handhelds and smartphones remained strong.
PalmOne also raised its revenue guidance for the current quarter to $250 million to $260 million, a midpoint increase of more than 30 percent over earlier forecasts.
The companys shares responded by soaring nearly 40 percent higher in early trading Tuesday, rising to a new 52-week high of $29.94 within minutes of the opening bell.
Following Trends
Bradley said PalmOne is focused on leveraging two trends — the growing availability of wireless access points and the need for mobile workers to have access to increasingly sophisticated information.
The quarter helped PalmOne end on a positive note in an otherwise dour year that saw it slip into the red amid fierce competition in the handheld space from newcomers such as HP and Dell.
PalmOne said it shipped around 1.1 million of its Zire, Tungsten and Treo handhelds during the quarter and 4.1 million during the year. To date, the company said it has sold 26.4 million of its handheld devices.
The company had attempted to light a fire under its handheld line in the middle of the quarter, unveiling both a new low-cost basic-function Zire handheld with a color screen and a more loaded product with a built-in camera, MP3 player and other functions.
Rise of the Smartphone
But PalmOne said it already sees its smartphone product lines gaining on handhelds in sales. For the quarter, handhelds made up more than 70 percent of revenue, but that is expected to change to a 50-50 balance by the end of 2005 as the companys Treo smartphones, already sold through a number of wireless carriers, gain traction.
We have critical assets that we are leveraging to our advantage, Bradley said, citing PalmOnes extensive base of PDA users as likely smartphone adopters as well as a history of developing applications for mobile devices.
IDC analyst David Linsalata told the E-Commerce Times that smartphones are where the growth will be for PalmOne, as PDA sales growth has stalled to a sputter in recent years and because of price pressure from the likes of Dell. Handheld sales fell 12 percent in the first quarter of 2004, according to IDC data.
Smartphones are catching on with the enterprise segment, Linsalta said, which will help drive a doubling of sales this year to 4.5 million units in the U.S. alone.
Room to Grow
While third-place vendor Sony recently bowed out of the U.S. market for handhelds, number-two vendor HP and number-four vendor Dell have been gaining market share as they have made aggressive pushes in the consumer electronics space.
Dell in particular has been very aggressive on pricing, Gartner analyst Todd Kort told the E-Commerce Times. He said that PalmOne would benefit from being able to sell more higher-margin smartphones.
PalmOne said one factor slowing sales growth in the smartphone arena was a shortage of display screens, which it addressed late in the fourth quarter by changing suppliers, a move that should contribute to sales growth going forward.
Earlier this month, PalmOne unveiled its latest smartphone, the Treo 600, which stripped the camera-phone capabilities out of the original model to address security concerns among potential enterprise customers.
PalmOne acquired the Treo line when it bought Handspring last year, at the same time of the spin-off that created the standalone software unit, PalmSource.