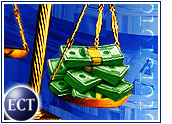 Oracle has upped the ante in its hostile bid to take control of PeopleSoft, boosting its all-cash offer by 22 percent, or US$1.2 billion.
Oracle now says it will offer $19.50 per share for all outstanding shares of PeopleSoft stock, making the acquisition worth about $6.3 billion in total. The new offer represents a 14 percent premium over Tuesday's closing price.
Many observers had been expecting Oracle to boost its bid, since PeopleSoft had traded well above the original offer price of $16 per share, providing little motivation to shareholders to sell.
"Oracle remains committed to acquiring PeopleSoft and will not be deterred by management's maneuvers to maintain control of a company they do not own," said Oracle CEO Larry Ellison.
A Sweeter Deal
The move came two days after PeopleSoft revised its own offer to buy J.D. Edwards, scrapping a proposed all-stock swap in favor of a mixed stock-and-cash deal that also requires the two companies to close the deal sooner.
There was no immediate response to Oracle's latest bid from either PeopleSoft or J.D. Edwards, which filed a rash of lawsuits against Oracle, Ellison himself and another Oracle executive late last week.
Oracle spokesperson Jim Finn told the E-Commerce Times that the company raised its bid after hearing from owners of PeopleSoft stock.
"We have had several meetings over the past week or so with shareholders," Finn said. "We heard the deal seemed to make a lot of sense, for the reasons that we've been saying, but the price wasn't what they were hoping for."
Center Court
Oracle said it also plans to head to court to block the PeopleSoft acquisition of J.D. Edwards and will seek an order enabling PeopleSoft shareholders to freely sell their shares.
The offer to buy shares will be good until at least July 7th, Oracle said, with an extension possible if not enough shares have been tendered by that time.
PeopleSoft shot down Oracle's initial bid due to regulatory concerns and Ellison's stated plans to discontinue some PeopleSoft product lines. Instead, Ellison said he favored integrating those products' features into Oracle's own suite of enterprise applications.
However, on Wednesday, Oracle CFO Jeff Henley said it is too early to tell what the combined company's future software product mix might look like.
The boardroom-level battle has been anything but polite, with PeopleSoft CEO Craig Conway lashing out at Oracle executives last week, calling the buyout bid "atrociously bad behavior."
Regulatory Flags Waved
Meanwhile, the first regulatory shot has been fired across Oracle's bow, with Connecticut Attorney General Richard Blumenthal vowing to fight the deal as a violation of state and federal antitrust laws. "The takeover would cripple competition," he said in a statement.
Most analysts have advised customers of the various companies involved to stand pat for now and let the drama play out.