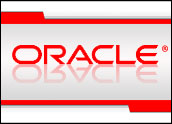 Oracle's first-quarter software sales soared some 35 percent — the largest year-over-year gain since the dot-com boom — helping propel it past forecasts and prompting executives to declare that the company is gaining on rivals such as IBM and SAP.
Oracle earned US$840 million, or 16 cents per share, for the quarter that ended in August, 25 percent higher than the same time last year, when it made $670 million, the company said. With stock expenses stripped out, the result beat Wall Street forecasts by a penny per share.
Sales were $4.53 billion, 26 percent higher than the $3.59 billion it brought in last year, while new software license revenue rose 35 percent to $1.09 billion — the largest first-quarter increase since 2000.
'Growing Dramatically Faster' Than Competitors
The results prompted ever-confident CEO Larry Ellison to predict that Oracle was rapidly gaining on middleware market rival IBM, while other executives called out the firm's main application rival, SAP.
"We're doing very well against them," Ellison said in a conference call. "We're growing dramatically faster than our competitors, and our target really is to beat IBM," Ellison said, citing a 23 percent growth rate in database and middleware sales.
"It was an all-around spectacular quarter for us," he added.
"We continue to take applications market share from SAP," commented President Charles Phillips, adding that Oracle's growth rate of 65 percent compares to growth of less than 20 percent for SAP. "We like our growth strategy."
Oracle's results not only further bolstered Ellison's long-term strategy of rolling up software and application firms in a $25 billion spending spree but also may provide reason for optimism in an uncertain economic environment.
Oracle shares were up more than 4 percent in morning trading Friday to $21.92, a price that would represent a new 52-week high for the stock.
Good Sign for Tech?
A strong first quarter for Oracle bodes well for the overall tenor of technology spending by businesses, since the quarter coincides with the usually quiet summer season, said Oracle President and CFO Safra Catz. In addition, the level of growth also argues against any negative impact on business investment due to the credit crunch that has dogged the stock market in recent weeks.
"If things weren't going well, this is the time of year where you would see it," Catz said.
Oracle's outlook was for slightly lower growth rates in the current quarter, with new license growth in the 15 to 25 percent range, with overall revenue growth of 19 to 21 percent. Oracle is sticking to its long-range plan of 20 percent earnings growth in each quarter, Catz said.
Recent Oracle acquisitions are paying off as well, with the June purchase of Agile Software for $495 million and the April purchase of Hyperion Solutions for $3.3 billion both adding to the top line growth.
Oracle also saw gains on the services side, with consulting revenue rising 25 percent year-over to $801 million.
That is likely a sign that more customers are asking Oracle to help them tie together the various offerings from the company — from back-end database solutions to productivity applications and middleware to tie it all together, Gartner analyst Martin Reynolds told the E-Commerce Times.
"As Oracle continues to add capabilities through new purchases, the need to be able to knit solutions together into a coherent whole will grow," Reynolds said.
Vertical Leap
Oracle has been widely credited for handling its acquisitions well. "There hasn't been a time during the past five years when it wasn't in the process of integrating another firm," Reynolds noted.
The acquisition spree has enabled Oracle to take a strategic approach toward attacking industry verticals, attempting to become the favored software solutions provider for the largest companies in verticals such as telecommunications, medicine and financial services.
That approach has enabled Oracle to target acquisitions that will provide it the capabilities it needs in those industry sectors, said Ovum analyst David Mitchell.
For instance, the most recent purchase, of Dublin, Ireland-based Netsure Telecom, gained it several high-profile telecom and communications concerns as customers, such as Vodafone and Cable & Wireless.
"The communications sector relies heavily on information technology and is a major buyer of software," Mitchell told the E-Commerce Times.
While Oracle had been trying to sell its applications lineup into the communications sector for years as standalone offerings, it has rolled up a series of acquisitions that amount to an impressive portfolio, a strategy it is playing out in several other sectors as well. "The strategy looks like it is growing Oracle's sales on many fronts," Mitchell added.