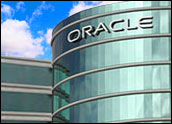 Oracle reported a strong fourth quarter Thursday, saying profit rose 27 percent over a year ago as sales surged 25 percent, with the gains largely attributed to the company's aggressive acquisition strategy.
The maker of database products and business applications said revenues from new licenses for applications surged 83 percent in the quarter, with a major share coming from Oracle's new product lines, such as those acquired through the purchases of PeopleSoft and Siebel Systems, the major parts of a US$20 billion spending spree.
Revenue rose to $4.9 billion for the quarter ending in May, a 25 percent hike over last year, while net income was $1.3 billion, a 27 percent increase.
Oracle noted that the growth exceeded its own target of 20 percent year-over-year expansion.
"We delivered accelerating revenue growth across virtually all product lines and geographies," said Co-President Charles Phillips.
CEO Larry Ellison said Oracle was outgrowing the overall database market "because we are winning share from our competitors," including second-place database maker IBM, which he said is a sign that more companies are moving their applications "off of mainframes and onto Oracle Database Grids."
Oracle shares were up slightly less than 3 percent on the report to $14.85. Much of the news may have been priced into the stock already, since Oracle pre-announced the strong quarter earlier this month. The stock has gained more than 15 percent since January.
Bigger Deals and More of Them
In a conference call to discuss the results, executives attributed the strength to an increased number of license agreements overall, and to a spike in the dollar value of deals as companies purchased more software from Oracle.
"Everything has bulked up," said CFO and co-president Safra Catz, who described many of the deals as "chubby" compared to past quarters, with the number of deals worth more than $1 million growing 39 percent.
"The entire pipeline has gotten bigger," she noted.
Though the first quarter is traditionally slower for Oracle, the company said it expected total software revenue growth of 20 to 25 percent and total revenue up 20 percent. Oracle did not issue a forecast for the full fiscal year now under way, saying it would only give quarterly projections going forward.
Vindication for Larry
If the results continue, they will prove powerful vindication for Ellison, whose strategy of rolling up massive business applications makers was questioned by many, and whose brash style — most noticeable during the epic battle to take over PeopleSoft — has often drawn criticism.
"No one doubted that buying applications companies whose business was growing would help expand Oracle sales, but the synergies were in doubt for some people," Gartner analyst Donald Feinberg told the E-Commerce Times. "If Oracle can keep growing as a whole and keep churning out profits amid all the integrations, that will answer a lot of the doubters."
Ellison defended Oracle's database and middleware lines, which are seeing slower overall growth, pointing out in the conference call that the company continues to win market share across the board.
"We're gaining share in all of our product lines, and top-line growth was nearly $1 billion quarter over quarter," he said.
Also impressive is how Oracle has apparently managed to keep customers of its acquisition targets from leaving after the buyouts, said AMR Research analyst Jim Shepherd. The fact that existing customers are buying more software licenses is a sign they have bought into the road map for migrating from PeopleSoft, for instance, to Oracle-branded products, he reasoned.
"The big fear in making major acquisitions and then vowing to phase out the products of the company you're buying is that that customers can be scared away," Shepherd said. "That does not appear to be happening — at least, not yet."
Others, meanwhile, are still trying to determine whether the strength Oracle is seeing in IT buying is isolated to the narrow applications and database field, or represents a sign of overall strength for the technology sector. The Oracle success story hasn't rubbed off on many other major tech firms so far, with the Nasdaq having seen most of its gains for the year erased in recent weeks.