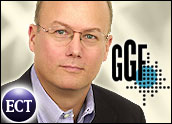 These days it seems that science fact is at least as amazing as science fiction. In a few short generations, actual developments in the real world of computing and information systems, biotechnology, nanotechnology and robotics have surpassed the imaginary leaps of early sci-fi authors such as Jules Verne, Isaac Asimov and Robert Heinlein both in terms of technical possibilities and societal ramifications.
At the forefront of evolutionary change in information science is grid computing — briefly put, a developing information technology framework that is paving the way toward a new, more powerful generation of computing and telecommunications.
In June of this year, the Global Grid Forum and Enterprise Grid Alliance, the two largest grid computing professional organizations in the world, merged to form the Open Grid Forum (OGF).
The OGF executives responsible for directing and managing this huge, complex volunteer organization will make their public debut September 11 through 14 at the GridWorld-GGF18 conference in Washington D.C.
Mark Linesch, OGF's first chairman and former vice president of HP's Adaptive Enterprise Program, took time out from the hectic preparations for the meet for an exclusive interview with the E-Commerce Times. In addition to providing a preview of events, Linesch spoke about the accomplishments of and expectations for the Open Grid Forum — and for grid computing in general.
E-Commerce Times: Hello, Mark, and thanks for taking time out to give the E-Commerce Times and its readers the opportunity to hear from you in the runup to GGF18 at GridWorld in Washington D.C. Could you give us a preview of what's in store at the D.C. meet?
Mark Linesch: Yes, we will formally introduce ourselves to the grid and distributed computing communities during GGF18 at GridWorld in Washington, D.C., Sept. 11 to 14. GridWorld 2006 combines multiple programs for business and IT professionals, and the Globus and OGF communities.
The Solutions Program offers practical insight into enabling the successful integration of grid solutions within existing enterprise IT environments. The Technology Program provides in-depth discussion of grid technologies and how to deploy them. The Community and Standards Program features the Open Grid Forum's GGF18 grid standards and research group sessions, high-quality workshops and invited talks. It also contains in-depth sessions for the Globus community. An exciting part of this year's event is the extensive Sponsor and Grid Showcases featuring hands-on Grid demonstrations by leading organizations.
GridWorld is a great opportunity to network with experts in the field, discuss ideas, collaborate and communicate. Key networking functions include the Globus 10th Birthday Party on Monday evening and the Open Grid Forum's Launch Reception Tuesday evening.
E-Commerce Times: Just to make sure we're clear about basic definitions, can you give us your, and the OGF's, definition of "grid computing," where it began and where it is now?
Linesch: Unfortunately, the industry has many definitions of "grid" — particularly in relationship to next-generation distributed computing technologies such as virtualization and service orientation. Although I think it is quite natural in the maturation of grid and next-generation distributed computing technologies for the industry to still be "storming, forming and norming" on the names, definitions and boundaries of these concepts, it can be confusing. In general, I personally tend to think of "grid" as shared and service-oriented infrastructure for shared services across a portion of the data center, multiple data centers and/or multiple organizations.
Grid architectures, technologies and solutions have demonstrated real scientific and business value and will continue to evolve and mature when implemented within a single data center, across multiple data centers and across multiple organizations. However, like all emerging technologies, grid technologies take time to mature and become suitable for different types of applications.
All emerging applications and technologies start someplace, and grids started in high-performance computing and have continued to evolve and grow into the broader IT environment. I often talk about the three phases of grid adoption: the early adopters; then moving to a proven solution phase; and then, finally, to more pervasive adoption.
It's clear that the scientific and engineering communities were first out of the gate and provided a foundation for early adoption and proven solutions that the broader industry can build upon. It's also true that in some of the enterprise areas that are closely associated with high-performance computing — finance, pharma, manufacturing, etc. — we are starting to see increased adoption of grid and grid-related solutions such as virtualization and service orientation.
We are also seeing the concept of grids moving from specific departments or functions within the enterprise to the broader IT data center environment. I think this progression is very natural and predictable as grids cross the chasm from specialized applications to the broader IT environment. What is not easily predictable is the timing of this technology diffusion and adoption.
E-Commerce Times: SOA (service-oriented architecture), P2P (peer-to-peer) networking and ongoing advances in semiconductor chip engineering are clearly contributing to the development of grid computing. Can you give us an idea how these and other technological innovations are integral to the ongoing advancement of grid computing and its end user applications?
Linesch: I believe that the industry is on a journey toward a new world of distributed computing. The technologies you mentioned are fellow travelers on this journey. Virtualization and automation of IT processes are maturing concepts that are now being utilized in data centers around the world to lower costs and increase utilization rates.
Service orientation is a powerful evolution of existing distributed computing concepts and will enable the creation of a more modular and flexible IT environment — and the management of this environment in service to the business.
All three of those concepts deliver great value as stand-alone technologies. Grids are enabled by virtualization, automation and service-orientation technologies; they also integrate these technologies into a solution — particularly across functional and organizational boundaries.
E-Commerce Times: With knowledge in general advancing at such a great pace and so many changes taking place technologically, specialization is a necessity, but this can also lead to narrowness of vision and close mindedness. It seems to me that one of the great benefits of organizations such as the OGF is their potential to break down barriers and lead to even greater advances and understanding. Can you give us any thoughts on this, and perhaps some specific examples of EGA/GGF project work that illustrate this?
Linesch: Moving toward effective resource sharing, information integration and collaboration both within and between enterprises is challenging, and the barriers can include people, process and technology.
For instance, a technology barrier may be sharing applications and heterogeneous resources (network, server, storage). That's why virtualization and service orientation are such key technology components of grids — enabling IT to logically represent resources, and architecting applications as modular services that can execute on these shared resources in a more fluid and dynamic manner.
As our name implies, the Open Grid Forum is a combination of two simple but synergistic concepts: "Open Forum" and "Open Standards." As an Open Forum, OGF brings the grid community together — to identify and align requirements, workshop solutions and communicate progress.
As an Open Standards organization, OGF aligns with broadly adopted industry standards while developing new specifications to enable grid software interoperability. Both aspects of OGF are involved in helping to bring people together to break down barriers and workshop solutions.
Regarding specific examples, I can think of several:
As an open forum, OGF holds three major events per year in different parts of the world where grid specifications and best practices are advanced, and where uses of grids in many scientific, research and government enterprises are explored. GGF18 at GridWorld is a great example of how our organization is reaching out to showcase the business value of grids through a combination of in-depth workshops, tutorials and invited talks.
As an open standards organization, we collaborate extensively with other standards development organizations throughout the industry. For instance, one of our key groups within OGF is the Standards Development Organization Collaboration on Networked Resources Management. This cross-institutional group — with representatives from many of the major SDOs such as