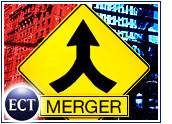 Electronic billing and payment provider CheckFree (Nasdaq: CKFR) announced Tuesday that it has completed its acquisition of Transpoint LLC in a stock deal valued at around $1 billion (US$).
To finalize the transaction, CheckFree shareholders voted last week to issue 17 million shares of company stock to TransPoint.
TransPoint is an electronic billing and payment joint venture between Microsoft Corp. (Nasdaq: MSFT) and First Data Corp. (NYSE: FDC), with Citibank as a minority shareholder. The deal was first announced in February.
Gathering Steam
CheckFree, which currently has 3.5 million customers, will now begin integrating its electronic billing and payment systems with technology developed by TransPoint to create a common Internet billing platform. The companies said they will work together to increase consumer interest in online billing and payment.
"Our goal is to create momentum that leads to our electronic delivery of more than half the average U.S. households recurring bills next year," said CheckFree chairman and CEO Pete Kight.
Opening Doors
CheckFree, Microsoft and First Data will collaborate on the development of new products and services, and use each other's technologies. For example, CheckFree will use First Data's domestic Western Union network of more than 4,000 billers, including electric, gas, water and phone companies.
Also as part of the transaction, CheckFree has gained an exclusive five-year relationship with Microsoft to provide electronic billing and payment technology used in applications and services that Microsoft develops. During that time, Microsoft will guarantee a minimum of $120 million in revenue to CheckFree.
First Data also agreed to enter into a five-year relationship with CheckFree, during which time First Data and CheckFree will market and use each other's products and services. According to CheckFree, First Data will provide at least $60 million in revenue and/or cost savings to CheckFree.
In addition, First Data will sell CheckFree's electronic billing and payment services to its customers. To help cut some of its operating costs, CheckFree will use First Data's electronic biller connections and range of electronic payment products and services.
Both Microsoft and First Data will gain a seat on CheckFree's Board of Directors as of Tuesday. Prior to sealing the deal, Microsoft, First Data and Citibank collectively forwarded $100 million to TransPoint. Those funds brought CheckFree's cash position to $285 million.
Boom Expected
Most analysts say that the biggest hurdles for online bill payment companies are consumer concerns about privacy and their lack of ease with bill-pay technology.
Despite the drawbacks, a new study from the Gartner Group found that both online banking and electronic bill payment will experience substantial growth within the next five years — 171 percent and 239 percent respectively — and that the gap between the two activities will begin to narrow.