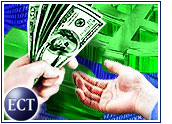 Novell has announced plans to acquire SilverStream Software in a US$212 million cash deal designed to strengthen the networking software maker's position in the nascent Web services market.
Under terms of the deal, which is expected to close in July, Novell will pay $9 per SilverStream share. The acquisition has been approved unanimously by the boards of directors of both companies.
Building Web Services
Novell executives said the acquisition is part of the company's strategy to commercialize new Web services. The company is betting big bucks that SilverStream's technology will boost its ability to deliver on its "One Net" vision of the Internet by helping customers develop business applications that exploit the latest Web technologies while leveraging existing IT investments.
SilverStream's business solutions, Web services application development and network infrastructure also will broaden Novell's ability to help customers deploy advanced Web applications that drive new revenue.
"We promised we'd move aggressively into the Web services space," Novell CEO Jack Messman said. "By providing the next generation of Web services solutions to our customers, we move Novell further along the path toward growth and profitability."
Nascent Market
Analysts said the acquisition is a smart move. Web services is an evolutionary way of building a component-based architecture that industry watchers predict will become increasingly popular as an application delivery model.
"Everybody is building their infrastructure to support services," Yankee Group senior analyst Robert Perry told the E-Commerce Times. "If Novell is going to do something, now is certainly the time."
Novell is competing with some heavy-hitting infrastructure companies in this growing market. Microsoft's complete .NET platform is scheduled for rollout later this year. In addition, IBM, Sun Microsystems and BEA Systems, along with a legion of smaller companies, are establishing footholds in the Web services space.
The Contender
Aberdeen Group senior analyst Michael Hoch told the E-Commerce Times that the acquisition is not surprising. Aberdeen issued a report last week that outlined the moves Novell would have to make to become a serious contender in the Web services marketplace.
"There is a gap of application server platform for Novell," Hoch said. "We speculated that Novell would either have to acquire one or partner heavily."
Competitive Move?
Aberdeen advocates a partnering strategy, as opposed to head-to-head competition with Big Blue and BEA, which together hold more than 60 percent of the application server market.
But Hoch said this acquisition appears to be a competitive move rather than a cooperative one.
Analysts said it is too soon to tell how SilverStream's technology will help Novell compete with established industry powerhouses, but Perry said the acquisition will strengthen Novell in the Web services space.
Novell predicted that the acquisition will slightly dilute its earnings in 2003, but will add to earnings by 2004. No impact on third-quarter revenue is expected, according to the company, but SilverStream has the potential to add about 1 percent to the company's revenue in 2002.