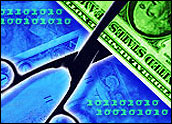 Battered Nortel said it would lay off 3,500 workers and fire seven executives as part of its latest attempt to move beyond an epic accounting scandal and regain its market prominence.
The layoffs, part of a US$400 million restructuring aimed at cutting costs to be more competitive, represent about 10 percent of the worldwide workforce of the Canadian company. The cuts will leave Nortel with about 30,000 workers, far below its peak size of nearly 100,000 workers in 2000.
In addition to the cuts, which Nortel said would come across its businesses and be focused in North America, the company also announced it had fired for cause seven more executives. Those firings come on top of the earlier sackings in April of the CEO, CFO and controller in charge of the company during the disputed earnings period in 2001.
Under Scrutiny
Nortel said it was in the process of trying to recoup about $10 million worth of performance bonuses from those fired. Although Nortel has not detailed the exact nature of the accounting issues, speculation is that 2002 results were artificially lowered and 2003 results falsely pumped up to help executives achieve bonuses for returning the company to profitability.
CEO Bill Owens emphasized that Nortel was still not in a position to provide solid financial data or comparisons, because all of its recent results remain under scrutiny. Regulators in both the U.S. and Canada are investigating and private shareholder lawsuits have been filed as well.
"We're well on our way to putting our financial issues behind us," Owens said in a conference call.
Shares of Nortel were up about 3 percent in Friday trading to $3.85.
Long Process
Turning Nortel around is proving no small or short-term feat.
In June, the company announced it would sell most of its manufacturing operations to Flextronics, which will make Nortel's hardware on an outsourcing basis. That deal is expected to help bring more than $700 million into Nortel's coffers in coming years and will result in Nortel shedding more than 2,000 workers.
Gartner analyst Mark Fabbi said Nortel has been careful to act quickly to take the necessary steps to address the earlier problems, but probably still has a rattled employee base and some spooked customers.
"The shakeups have been a distraction, but the message that the tough decisions will be made is one that everyone needs to hear," Fabbi told the E- Commerce Times.
Although Nortel has appeared to maintain some of its key market share in the wireless infrastructure space in particular, he added, customers are more likely to postpone purchases until Nortel can prove it's turned the corner, which might in turn hamper efforts to right the shop.
Cutting Carefully
Nortel said the cuts would come mainly from management, and while they'll leave the company with less than a third of its onetime employee base, analysts said the company could still be a market force in its slimmed-down form.
"Cuts of that magnitude can leave a company reeling, because the employees left behind feel a bit shell shocked," Challenger, Gray & Christmas CEO John A. Challenger told the E-Commerce Times. "The impetus is on the leadership to convey that the company is going to emerge from this stronger than before. They have to watch employee reaction very closely."
One reason for the cuts is Nortel's desire to be profitable consistently going forward, something that investors in the space are demanding, especially since competitors, many of whom were equally battered by the tech downturn, have managed to do so.
Lucent Technologies recently posted its fourth straight quarter of profit, and Cisco Systems and Juniper Networks have managed to turn the corner on better sales of enterprise and telecom equipment.