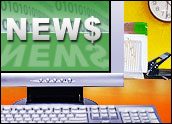 Despite 17 percent growth in monthly unique users at the top news sites in 2011, revenue remained an issue, according to a new report from the Pew Research Center's Project for Excellence in Journalism (PEJ), which cites data from Nielsen Online.
Online advertising grew by 23 percent in 2011, but just five big tech companies now account for about half of all display ad revenue, notes Pew in "The State of the News Media 2012."
News companies are essentially cut off from this growing revenue stream, which amounted to US$653 million, or 45 percent of the mobile ad market, according to the study.
Moreover, U.S. newspapers reportedly lost $10 in print advertising revenue last year for every $1 made in online revenue, PEJ found.
One of the biggest issues is that unlike the traditional delivery of a newspapers to a subcriber's door, the Internet opens up numerous alternative sources reporting the same news.
"Online you have aggregators, so the content has become commoditized," said Greg Sterling of Sterling Market Intelligence. "There are a lot of places to find the same stories."
The Pay Wall
The solution that some media outlets have followed in recent years is actually going back to an old model — offering online content on a subscription model.
"Newspapers have operated successfully with subscription models since door-to-door delivery began," Josh Crandall of Netpop Research told the E-Commerce Times. "It is a proven model, and it can work for loyal readers."
However, with so much competing news and other content out there vying for eyeballs, will consumers pay for what they can get for free with just another click of the mouse?
"The trick is to convert new readers into paying subscribers," added Crandall. "The question is not if, but how newspapers invest in creating interfaces easy and enjoyable to scan and read, along with improving how readers discover articles that will determine how effective they can compete against free content that's available from a variety of other sources across the Web."
The "blanket" of type of pay wall is one type referenced in the PEJ study.
"We have seen a wide variety," Amy S. Mitchell, deputy director of the Pew Research Center's Project for Excellence in Journalism, told the E-Commerce Times. "It is too early to tell what revenue success they are having. But not one clear model as to how to charge has stood out."
Will Past Success Mean Future Success?
Many media outlets have attempted to create a middle ground that provides a certain numbers of stories or visits for free, and requires subscriptions only after the free number has been exceeded.
"It is the familiar path, and one that has proven to be at least reasonably successful for companies like The Wall Street Journal and The Financial Times," noted Sterling. "The New York Times is having some success with it now."
This runs contrary to the other approach, added Sterling, which has been to open up all the content and monetize the site with ads.
"These remain the two obvious ways to make money," said Sterling. "Either subscriptions or advertising. However, except for the largest of brands, advertising hasn't replaced the lost revenue from print."
The broader problem is that these two options are just business as usual, he added. "This is the inertia around the same sort of activities of doing what you've always done. For these sites, it is difficult to do anything radical."
Enter the Third Screen
Changes may come in the business model as the usage model changes. About a third — 34 percent — of desktop/laptop news consumers now also get news on a smartphone, the PEJ study found. Twenty-seven percent of smartphone news consumers also get news on a tablet.
"People are reconnecting directly with the news publishers on their smartphones," Sterling noted. "More time spent with these outlets is happening through the use of apps."
And here the subscription model could reconnect eyeballs to particular outlets.
"People are choosing to go to a particular news site or news app on a mobile device rather than searching for news," said Pew's Mitchell. "Those people were more willing to pay and more likely to have paid for digital news. People are committing to go back to the brand or outlet they like and trust — and will pay for that content."
Form Factor
Design remains an issue, and interface is key at capturing and retaining readers.
"The large sites such as USA Today have done a good job," Sterling said. "The better- designed app will help with content."
Yet even here, the hybrid model of ad revenue supporting limited free content together with paid app content might be what becomes the new norm, Sterling suggested.
"The pay wall sites where you pay for premium content could be the de facto model," he said.