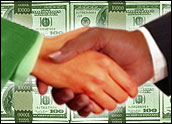 As part of its strategy to build advertising revenue over the Internet, The New York Times Co. said yesterday that it will buy About.com from Primedia for US$410 million. The Times Co., which owns The New York Times, The Boston Globe and more than 40 other Web sites, said it plans to enhance About.com's content, coverage and visibility.
This is the second time About.com has changed hands. Primedia purchased the property, which offers 22 million visitors a month a database of information on thousands of topics compiled by nearly 500 experts, for $690 million in stock in late 2000.
"We are very excited about this acquisition, which furthers our strategy of delivering news and information to local and national audiences with multiple media products," said Janet Robinson, president and CEO, The New York Times Co., in a statement. "The global reach of About.com and opportunities for cross-promotion between its channels and our digital properties will be additive for both businesses."
Extending Advertising Opportunities
The New York Times Co. expects About.com to complement its existing portfolio and strengthen its online advertising base by adding significant cost-per-click advertising business and impression-based advertising. Times executives said About.com is an important platform for future growth on the Internet because it adds an alternate model of content creation and aggregation.
The Times will also leverage About.com to extend its reach among Internet users. Based on Nielsen/Net Ratings, About.com's 22 million monthly users combined with the Times Co.'s already significant base of 13 million users will form the 12th largest entity on the Internet.
Kelly Conlin, Primedia's president and CEO, called the sale a "material deleveraging transaction" that strengthens the company's balance sheet.
"Because About.com is completely distinct from Primedia's other Web sites, its sale enables us to further focus on growing the online extensions of our outstanding portfolio of targeted brands reaching highly-engaged, high-value audiences," Conlin said.
Observers Question Strategy
Meanwhile, MediaWeek spokesperson Mike Shields told the E-Commerce Times that like the Washington Post, which purchased Slate.com in December for an undisclosed sum, the Times is looking to buy existing properties that can boost advertising revenues that are sagging as traditional bread-and-butter categories like classifies and rentals gain momentum online.
But he said it remains to be seen how much About.com can contribute to the Times' bottom line. While About.com consistently ranks among the top traffic generators, he said there hasn't been much buzz about the site among advertisers.
"About.com has been flying below the advertisers' radar," Shields said. "Its advertising dollars haven't matched up to its traffic over the past couple of years. About.com is not a search engine, so it isn't benefiting from that boom. Perhaps the Times can leverage the site's assets, but they've got some work to do to get advertisers excited about About.com."
Willing to Work
According to the companies' joint announcement, Martin Nisenholtz, senior vice president of Digital Operations at the Times Co., seems willing to do the work.
"This is a structure that provides an excellent complement to our current Web sites," he said. "We are looking forward to sharing our online publishing expertise with About and expect to see growth from enhancing the content offering, expanding its coverage and developing its sales and marketing resources."