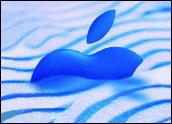 Apple shares fell again Thursday after a published report suggested CEO Steve Jobs had been granted stock options without the knowledge of the company's board of directors and that the company may have falsified documents to cover up the misdeed.
The Financial Times of London reported that Apple granted Jobs 7.5 million stock options dated November 2001, a month before the board of directors met to vote on the options. The timing could suggest that the options were improperly authorized and backdated to maximize the financial benefit to Jobs.
The Times also reported that records may have been falsified to suggest that a board meeting and vote took place before it actually did.
All About Steve
Apple shares, which had plunged in value Wednesday in the wake of a report that Jobs had hired an outside attorney, were down again Thursday, falling another 1.4 percent to US$80.17. The stock had lost some 6.5 percent during the trading day on Wednesday, though it recovered most of those losses before the session ended.
Late Tuesday, a San Francisco-based legal newspaper reported that prosecutors were involved in the probe, examining whether Apple executives may have forged documents relating to the options investigation.
The back-to-back reports seem to suggest Jobs is more closely involved in the stock options scandal that Apple has been dealing with for several months.
Apple said in October that its own investigation cleared current executives of any wrongdoing, and the company took special care to note that Jobs did not appear to have benefited from stock options backdating since returning to the company.
The company said Jobs had never exercised some options granted him, and did not realize a financial gain from options issued during the period in question.
Apple did not comment on the latest reports except to say that it was cooperating with a Securities and Exchange Commission (SEC) inquiry and providing all relevant documents to that agency.
In October, Apple said its own internal probe had found no misconduct by any current officers and largely exonerated Jobs of any wrongdoing.
The company has been forced to delay its annual report and some formal earnings filings with the SEC as a result of the probe, and has left open the possibility that it would be forced to restate some past earnings, as well.
Still a Good Bet?
Any financial impact from restatement of past earnings will be minimal, UBS analyst Ben Reitzes said, adding that he believes Apple will be able to resolve the options issue early in 2007 and then move on to introducing next-generation products.
"Investors reacted to the fact that Jobs was suddenly right in the middle of all this," Reitzes explained. "Given how much Apple depends on Jobs as its public face and creative engine, that's not a surprise, but the risks still appear to be minimal." Apple could bring its delayed filings up to date as soon as the end of this week, Reitzes noted.
How significant it is that Jobs would hire personal counsel is a matter for debate. It may suggest that he's worried that Apple cannot or will not watch out for his interests, although it may just be a logical move given his own personal fortune and high profile.
Though having its CEO drawn into scandals can ratchet up the risks for any company, those risks are accentuated at Apple because the company and its leader are inexorably linked. Jobs is known as the creative leader at Apple, personally unveiling all new products, and has no clear successor.
Given the scope of the options scandal — some 200 companies have been identified as having possibly issued backdated options — it's unlikely that regulators would pursue Apple or Jobs specifically to the extent that he'd be forced to leave, according to American Technology Research analyst Shaw Wu.
"We do not believe it makes sense for the U.S. government to nail Apple and Steve Jobs, one of the most respected American companies and businessmen of the past 100 years," Wu said. "We believe a more likely scenario by the U.S. government is tighter enforcement on options backdating to ensure it doesn't happen again."
Wu is one of several analysts who have raised forecasts recently on Apple, citing strong demand for iPods and Macs and the pending launch of the Apple mobile phone.