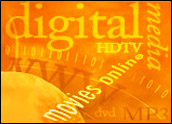 Two television networks have struck a deal with a cable provider to offer on-demand downloads of some of their most popular shows, providing perhaps the clearest glimpse yet of the choices consumers will soon have as cable and the Internet converge.
In separate announcements, NBC and CBS each said they would begin offering content for download, CBS sending its programs through Comcast's digital network and NBC distributing its shows via DirecTV. Individual show downloads will cost 99 cents a piece, include a small number of top shows from each network's prime-time lineup and be entirely commercial-free.
Changes on the Air
Comcast said beginning in January, its digital subscribers in certain markets — but not those served by CBS affiliates — will have download access to episodes of four CBS shows: "CSI: Crime Scene Investigation," "NCIS," "Survivor" and "The Amazing Race." In some cases, the shows will be available within hours of their original airing.
Meanwhile, DirecTV subscribers who use the satellite service's digital video recorder features will have access to a menu of shows from NBC and Bravo, including "Law & Order: SVU," "The Office," and "Battlestar Galactica."
"The way people are consuming content is changing," said David Zaslav, President of NBC Universal Cable. "It's a huge sea change."
CBS president Leslie Moonves agreed. "Video on demand is the next frontier for our industry," he said in a statement, calling the partnership a "giant, positive leap forward."
Comcast CEO Brian Roberts said with its deal, "CBS has taken a giant step forward in experimenting with prime-time video on demand."
Video on demand has become a staple for many cable companies. Comcast's own service has served up more than 1 billion programs views this year alone, for instance.
But the advent of broadband Internet connections has made it possible for video to be offered on demand in many more venues, from Web sites to cable networks to satellite transmissions.
Drivers Seat
Analysts say the network moves, especially when viewed along with other recent events — such as NBC recently putting free downloads of its evening newscast on the Web shortly after it airs on TV and ABC offering direct downloads of top shows to the new video iPod — underscores a massive shift in the programming of television content.
"The consumer is going to be in control to a degree that has never been seen before," Forrester analyst Josh Bernoff told the E-Commerce Times.
That shift probably began with the original VCR, accelerated with the advent of digital video recorders and is now moving at breakneck speed thanks to the Internet, he added.
Along with that evolution comes a recognition that traditional advertising models may not be sustainable in the new marketplace. Giving consumers the option of watching commercial-free content that they pay a small sum for is seen by many analysts as a test of the public's appetite for paid content.
Television networks have already learned that people will pay for shows that are free, as evidenced by the billions of dollars earned through the sales of DVDs of current and past programs. "There's an audience that's willing to pay — it may not be huge yet, but it's growing," Bernoff added.
Growing Confidence
In both cases, downloads will be viewable for a limited time after they are originally purchased and some shows will be taken down as soon as the next episode airs.
The early days of the new services will be closely watched by many parties, including network affiliates who are concerned about losing viewers to on-demand services, which would in turn impact their bottom line by limiting what they can charge for advertising.
The networks will also look for signs that the digital copies of their shows aren't being copied or shared without authorization.
Meanwhile, the narrowing gap between the Web and traditional television was underscored earlier this week when Yahoo signed a deal with TiVo to let subscribers use the Internet to control the recording of their favorite shows remotely.