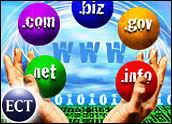 Leading domain registrar Network Solutions is under fire for a controversial practice under which it briefly reserves domain names after it notices search activity on the names.
Network Solutions describes the technique as a way to protect legitimate interest in domains from modern-day cyber-squatters. Word of the approach spread quickly last week after it was revealed that the company was using its servers to automatically reserve domains temporarily after it recorded a search on the term or name in question.
By doing so, the company effectively makes it impossible for a would-be domain owner to register the domain with another reseller for at least four days.
Front Runners and Domain Tasters
Critics claim Network Solutions is essentially engaging in a practice known as "front running" in which domains are registered based on search activity, on the expectation that either the people doing the search or the owners of the brands or names being searched for may want to register the domains. When they do, such front runners often resell the domains to them at a higher price.
Network Solutions denies it's front running, saying instead that its practice ensures that domains are available to those who want them and not grabbed by true front runners and so-called domain tasters.
Domain tasters register large numbers of domain names and then examine the traffic they receive during the first four days of going live. The Internet Corporation for Assigned Names and Numbers requires that registrars give end-users a four-day grace period after which time they can cancel their registrations. Domain tasters use that time to see which URLs (uniform resource locators) grab traffic, keeping those for themselves and canceling the rest of the registrations.
The parking policy is a security measure meant to forestall front runners, said Jonathon Nevett, the company's vice president of policy. The measure kicks in after a visitor to its site searches for a domain but then does not immediately register the name.
"During this reservation period, the name is not active and we do not monetize the traffic on these domains," he said. "If a customer searches for the domain again during the next four days at networksolutions.com, the domain will be available to register."
Grace Period
However, during that window, users cannot register the domains at any other domain reseller, including many, critics note, that can charge considerably less depending upon the package a customer chooses.
"This protection measure provides our customers the opportunity to register domains they have previously searched without the fear that the name will be already taken through front running," Nevett added.
Front runners access information on searches from ISPs (Internet service providers) and others to determine which domains to grab, often purchasing them for a short time to see whether interest materializes.
Making Enemies
By parking domains and making them live, Network Solutions may be doing essentially the same thing as those tasters, said Domain Tools President Jay Westerdal.
"It's a deplorable action to announce potential domains to the world," he told the E-Commerce Times. By doing so, he added, the company is actually making domain testing easier for cyber-squatters, who can judge the traffic a parked domain gets without having to register it themselves. "These domains are now easy fodder for scammers.
"The grace period was designed to refund domains that customers didn't mean to register," he added.
Network Solutions will modify its policy somewhat to keep the domains from being made live after they are parked and would only put a hold on names that are searched for through its Web site, not through the Whois domain registration database.
It's not clear whether that will be enough to satisfy critics, many of whom took to the blogosphere to lambaste the company for its actions.
ICANN Investigates
ICANN, meanwhile, is known to be looking into the domain tasting and front running worlds, and exploring possible ways to minimize the practices or prevent them from harming legitimate registrations.
During a single month, the five main registrars deleted more than 1.7 million domain names during the grace period and retained fewer than 11,000 after that window closed, according to a report the group released last year.
A working group established last year is still looking at the cyber-tasting issue, including trying to judge how the grace period policy impacts the practice, ICANN spokesperson Patrick Jones told the E-Commerce Times.
That group does not have a specific time frame for issuing recommendations to ICANN's board, Jones said, but has taken input on the topic from registrars and Web end users alike.