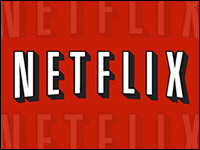 Netflix and YouTube together now account for more than half of all North American fixed network data traffic during peak hours, according to a Sandvine Internet traffic trends report published Monday.
Netflix now accounts for 31.6 percent of downstream traffic in North America, while YouTube accounts for another 18.6 percent. Peer-to-peer file-sharing, meanwhile, now accounts for less than 10 percent of total daily traffic, down from 31 percent five years ago.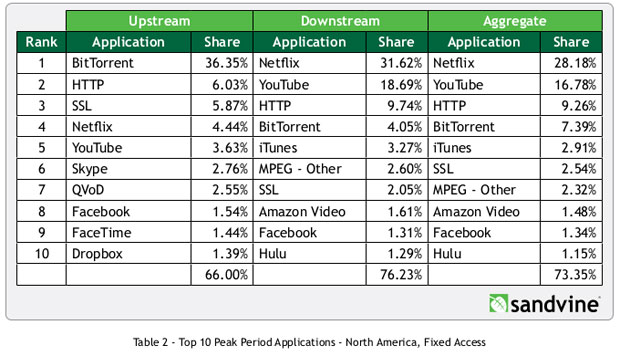 "For the first time ever, peer-to-peer file-sharing has fallen below 10 percent of total traffic in North America, which is a stark difference from the 60 percent share it consumed 11 years ago," said Dave Caputo, Sandvine's CEO. "Since 2009, on-demand entertainment has consumed more bandwidth than 'experience later' applications like peer-to-peer file-sharing."
Sandvine's data is based on a selection of its service provider customers. The findings were published in the Global Internet Phenomena Report 2H2013 — the second of this year's twice-annual reports.
Share, Not Volume
The fact that video is outpacing file-sharing doesn't necessarily mean that P2P is on a downward spiral.
"The biggest trend that we've seen is the increase in traffic from video services such as Netflix and YouTube," Dan Deeth, a Sandvine spokesperson, told the E-Commerce Times. "The decline has been in peer-to-peer sharing of video content, but it is also important to note that it is in the share, not the volume, as Internet usage is always going up.
"Video streaming is simply now outpacing peer-to-peer video sharing," Deeth added.
Netflix, YouTube Hog Half the Internet"Netflix and YouTube are growing in both absolute terms and relative to other services, such as Hulu and Vudu," explained Greg Scoblete, video analyst for Digital Tech Consulting. "This growth is not just a testament to the large number of users who stream, it's also indicative of just how much bandwidth 'over the top' video eats up."
That bandwidth consumption, in fact, is one of the major reasons ISPs are exploring tiered pricing regimes and bandwidth caps, much like cellular data carriers have walked away from unlimited data," Scoblete told the E-Commerce Times.
Decline of Traditional Viewing
Increased video streaming is also coming hand-in-hand with declining viewership from traditional sources — notably, broadcast and cable.
There is "an ongoing decline in TV viewing, especially among younger folks and cable subscribers," Charles King, principal analyst at Pund-IT, told the E-Commerce Times. "Many or perhaps even most of those folks are switching to a blend of over the air broadcasts and online offerings from Netflix YouTube, Amazon and others."
Why that's happening is a bit more complicated, "but it's mainly due to what might be called flexible enablement," added King. "Cable and broadcast TV is an essentially static experience that's tied to wherever the equipment is located. Between cellular broadband, unlimited data plans for smartphones and increasingly ubiquitous WiFi, consumers can watch favorite programs wherever, whenever and however they choose."
High Bit-Rates and More Usage
A number of factors are combining to boost YouTube's traffic share.
"Globally, YouTube users are spending an average of 10 percent longer per video than they did last year, each user is watching over 10 percent more videos than last year, and there are roughly 15 percent more YouTube users globally than there were last year," noted Richard Broughton, director of broadband technology at IHS Technology.
Similarly, in the U.S., there are roughly 25 percent more Netflix Instant customers than there were at this time last year," he added.
Meanwhile, video quality is improving, meaning more data still.
"In addition to usage increasing, videos are steadily becoming higher quality, Broughton told the E-Commerce Times. "Higher resolutions typically mean more bandwidth, and increasingly users' broadband connections are able to reliably support these higher-quality streams."
Decline of P2P
As for falling PSP usage, one factor is the more widespread availability of legal alternatives, Broughton pointed out: "This means that for many consumers, it's simply less attractive to access your content via a P2P system."
Moreover, as services such as Netflix and Hulu offer reasonably priced monthly options, "there is no need to turn to peer-to-peer," Deeth said.
Last but not least, there's also the fact that legitimate file sharing has been replaced to a large extent by social media.
"Peer-to-peer networks will always be with us, but social networking sites like Facebook and Twitter have become the go-to repositories for people who share photos and other sorts of data," added King. "In essence, social networking has commoditized file-sharing for the vast majority of people, leaving longtime players hurting for users."