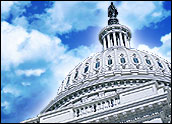 A Congressional committee has backed a plan that would bar major telcos and cable companies from charging Web services companies to accept their traffic, giving the so-called Net neutrality campaign a welcome boost.
The U.S. House of Representatives Judiciary Committee voted 20-13 to recommend a version of the Net neutrality bill to the full House that contains an outright prohibition on charging premium access fees for Web companies that sell video and other content.
Century-Old Law
The "Internet Freedom" bill uses provisions of a 1914 antitrust law to require neutrality and is one of several now circulating the halls on Capitol Hill, including at least one other that has the backing of the House Energy and Commerce Committee.
That bill stops well short of an outright ban on charging more for certain content but instead would authorize the Federal Communications Commission to investigate any complaints of traffic-blocking or over-charging abuses. Several Senate lawmakers, including New York Senator Hillary Clinton, are on record as supporting some form of neutrality guarantee.
The most likely alternative to pure neutrality would be a tiered network approach, which enables telcos and cable companies to charge a sliding scale for access based on the type of traffic being sent. Presumably, that means e-mail and other data traffic would be charged less than video or other entertainment media or even VoIP traffic that could be seen as a more direct competitive threat to the core businesses of companies that own the networks.
Net neutrality legislation is being backed by Internet firms such as Google and Microsoft, who are concerned that as they move further into providing full-length video online, the companies that transport the data to consumers' homes will seek to charge them additional fees, as well as related companies such as Intel and some consumer groups.
Major communications companies say they have no intention of boosting fees for handling certain types of Web traffic or to block some traffic because it poses a competitive threat, making it unnecessary to pass laws regulating it.
Antitrust Concerns
Lawmakers say the fact that cable and phone companies control the last mile of high-speed Internet access into homes raises the risk of anti-competitive behavior by those companies as the telecom landscape evolves.
"This legislation is a necessary step to protect consumers and other Internet users from possible anti-competitive and discriminatory conduct by broadband providers," said Republican Congressman F. James Sensenbrenner Jr. of Wisconsin, who chairs the Judiciary Commission and who is the bill's co-sponsor.
Sensenbrenner cited FCC data showing that 98 percent of American households with high-speed Internet access get their connections through cable companies or DSL providers, mainly telecommunications companies. "This virtual duopoly creates an environment that is ripe for anti-competitive abuses, and for which a clear antitrust remedy is urgently needed," he added.
He said the legislation would "provide an insurance policy for Internet users against being harmed by broadband network operators abusing their market power to discriminate against content and service providers."
Now or Later?
Opponents of Net neutrality say it amounts to price controls for the network operators and makes it easier for Google, Yahoo, AOL and others to earn money by selling services to consumers that they might currently be buying from the network operators themselves.
They also say that the legislation isn't necessary because there is currently no tiered network selling going on in the marketplace.
Much of the Net neutrality legislation now in circulation appears to be "a solution in search of a problem," Arpan Sura, an analyst with FreedomWorks, said.
"ISPs are already free to block or favor content as they please," Sura said. "It's telling that none of them has. In fact, no proponent of Net neutrality can cite an existing problem to which Net neutrality is a solution."
Amazon VP of Global Public Policy Paul Misener recently told the E-Commerce Times that the lack of traffic-blocking today shouldn't make consumers or lawmakers complacent and said that the changing telecom landscape makes vigilance necessary.
"There are pending mergers in the telecom industry that will take some time to absorb," he said. "Quite frankly, carriers are on their best behavior right now while legislation is being proposed and debated."