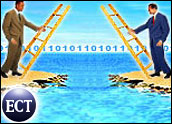 NCR, the world's largest maker of automatic teller machines, said Monday it planned to split itself into two independent public companies by spinning off its fast-growing Teradata Data Warehousing unit.
NCR will split by giving shares in the new, stand-alone Teradata to existing NCR shareholders. The remainder of NCR will focus on its core business of building ATMs and other technology.
The Dayton, Ohio-based company said the split will enable the company to "better focus on their distinct customer base, business strategy and operational needs."
Teradata is already a market leader in the fast-growing sector of enterprise data warehousing, with customers using its solutions to store, sort and retrieve customer and other data, which has become the lifeblood of marketing efforts in many companies. Teradata had about US$1.5 billion in sales last year.
NCR President and CEO Bill Nuti called the move a "logical step."
"Teradata and the new NCR operate in different markets each with solid prospects for the future, but they have markedly different business models," he said. "Both new companies should benefit from sharper management focus on their unique business opportunities."
Investors liked the move, sending NCR shares higher by nearly 7 percent in morning trading Monday to $45.25, a new yearly high for the stock.
Self-Service Kings
The remaining NCR will remain a sizeable maker of technology, with about $4.5 billion in sales outside of the Teradata unit. In addition to bank machines, NCR makes self-service kiosks and related technology used by hotels, airlines, retail stores and other industries.
NCR began in 1884 as National Cash Register and grew to dominate the market for cash registers — at one point making 90 percent of those in use in the United States — before they were rendered obsolete by new technology.
NCR entered the computer networking market in the early 1990s and was scooped up by AT&T in 1991. NCR then bought Teradata, which was founded in 1979. AT&T spun NCR off again in 1996. It struggled against foreign competition until then-CEO Mark Hurd — now the top dog at Hewlett-Packard — executed an aggressive turnaround plan that helped cut costs, increase profitability and led to the company winning back market share.
Nuti said as two companies, NCR will be better able to adjust to market changes in the two very different marketplaces.
"Each new entity should be able to more effectively pursue their specific growth and research and development agendas," he stated.
NCR's board of directors must still approve the transaction, and NCR is also awaiting a ruling from the Internal Revenue Service on the tax status of the deal. NCR believes it will be tax-free for shareholders. The number of shares in the new company that existing shareholders will receive has yet to be determined.
Data, Data Everywhere
The spinoff is aimed at enabling shareholders to enjoy the higher profit margins at the Teradata unit. By comparison, the core ATM business has narrower profit margins.
There was virtually no overlap in the two units' customer bases either, which meant that being part of NCR did not offer any additional sales opportunities for Teradata — and vice versa.
Teradata has carved out strong niches in several vertical markets, including telecom, where it sells to 80 percent of the top companies, retail, travel and transportation, Ovum analyst Helena Schwenk said.
"Teradata has always been adept at selling the technical benefits of its data warehousing technology and platform," Schwenk added. In recent quarters, it has gradually built up capabilities in the analytics area, with a focus on CRM and business intelligence.
Teradata has plenty of competitors seeking the same market for enterprise data storage, Schwenk noted, from hardware providers such as EMC, HP and IBM that have added software capabilities and which use low-cost hardware to attract new customers, as well as stand-alone providers. "It's a growing market and it's also a crowded one," she concluded.