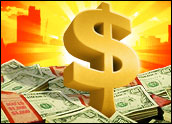 On May 18, the day social media giant Facebook went public, Nasdaq CEO Bob Greifeld was flying high. However, it wasn't from anticipation that the social network would see sky-high levels of trading — it was because Greifield was on plane flying across country, according to reports that surfaced Monday.
Greifeld was present at the opening bell ceremony with CEO Mark Zuckerberg at Facebook's Menlo Park, Calif., headquarters at 9:30 a.m. ET, and he opted to fly back to New York immediately afterward. Trading wasn't scheduled to begin until 11 a.m. ET.
Although he flew business class, Greifeld was out of touch, reportedly because his armrest phone wasn't working and he had no Internet access.
Almost from the very beginning of the day, the Facebook IPO faced numerous problems, including a flood of cancellation orders for Facebook shares that jammed the system, causing a delay until 11:30 a.m. ET.
Without access to communications, Greifeld was essentially out of the loop for five hours after boarding the plane. The fallout from his absence might not be over.
"This has gone from annoying problem to catastrophe very quickly," Rob Enderle, principal analyst for the Enderle Group, told the E-Commerce Times.
Nasdaq did not respond to our request to comment for this story.
IPO Not Sky High
Facebook, which has seen phenomenal growth, was closely watched as it headed to its IPO. Instead of blasting into the stratosphere, however, it closed far beneath expectations at the end of the day. In the ensuing days and weeks, fingers have been pointing at Nasdaq.
Duncan Niederauer, CEO of the rival NYSE Euronext, the company that competed to take Facebook public and lost to the Nasdaq Stock Market, told Bloomberg Television in an interview that he would have been far more communicative.
"It was badly handled from beginning till end, and now the CEO is at risk," added Enderle. "I would expect some structured changes to reduce the heat from this issue."
Crisis Management
As a response to problems that occurred throughout the day, including orders that were not executed, Nasdaq has sought Securities and Exchange Commission approval to set aside US$40 million for brokers whose Facebook orders were mishandled. This is not going to satisfy all parties, however.
UBS, Switzerland's largest bank, reportedly is facing losses as high as $350 million from the debacle, as it held a larger Facebook stake than the million shares it intended to buy, due to the entering of an order that wasn't immediately confirmed.
"I'm not a financial analyst, [but] UBS' loss claim appears somewhat hyperbolic — being that it's nearly 10 times the size of the cash Nasdaq has put aside to compensate all broker losses," said Charles King, principal analyst at Pund-It. "I expect it's more of a strategic starting point for what the company hopes will be a smaller, but still sizable, settlement."
This could leave lingering doubts about whether Nasdaq will be able to make everything right in the end. It could also be that the market simply wasn't up to the task at hand.
"While there were obvious problems with the Facebook IPO, those issues could be explained by the size and the sheer volume of hype surrounding the first day of trading," King told the E-Commerce Times. "The fact is that Facebook's first trading day qualified as the financial equivalent of a '100 year flood' — a singular event whose effects are virtually impossible to accurately predict."
Rules and Regulations
It's possible that Nasdaq's plan to compensate brokers with discounted fees would violate U.S. securities laws, as it could offer pricing changes to benefit specific members.
And even if Nasdaq can right the wrongs of this one, it is unlikely that this matter will be forgiven nor easily forgotten.
"The real question is whether Nasdaq's problems portend deeper, systemic issues that could — or would — impact future events," said King. "Frankly, that seems difficult to assess at this juncture, but given the gravity of the FB debacle, it'd be wise for Nasdaq and its executives to walk on eggshells for as long as it takes the dust and damages negotiations to settle."