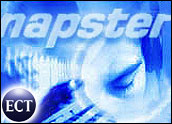 Napster today said its bid to turn what was a legendary brand in the underground music world into a contender in the legitimate online music space gained ground last year, fueled by a year-end spurt of new subscribers.
Napster said its subscriber base was up 50 percent in the quarter that ended in December and ended 2004 with 270,000 paid subscribers. A portion of those, about 44,000, joined Napster through on-campus discount programs offered at some universities.
The report came as a sort of preview of Napster's full earnings report, which will be made public on February 9.
Seeking Bite of Apple
Analysts said the timing of the announcement, just a day after Apple shattered sales and profit targets for the fourth quarter of 2004 and announced the iPod shuffle — a new budget-priced, flash-based version of its market-dominating music player — was no coincidence.
Napster is hoping to keep pace with Apple's iTunes Music Store for early leadership in the space, analysts say. In fact, Napster believes that over time, its subscription-style business model will win out over the pay-as-you-go model adopted by iTunes and others.
"We believe 50 percent quarter over quarter subscriber growth makes Napster the fastest growing music subscription service in the industry," CEO Chris Gorog said. "These results, combined with industry analysts' projections, continue to support our belief that the future of digital music is subscription services."
Gorog said the firm expects another strong year in 2005. "We expect to continue to drive very substantial subscriber growth," he said, noting that an upcoming marketing campaign is in the wings for a soon-to-be launched 'Napster to Go' service, which is being billed as the "world's first portable music subscription service."
Method of Payment
Jupiter Research analyst Mark Mulligan noted that Napster also launched a price war against iTunes in the UK, cutting prices 20 percent for subscribers.
Jupiter has predicted that subscription models would win out over time. While the two options appeal to about the same percentage of consumers today, younger users skew largely toward subscription models.
Apple might have complicated the emergence of that trend by managing to corner a considerable portion of the digital music market thanks to the huge popularity of the iPod.
"A la carte stores like Apple's will have the impetus in the near term, but subscription services will gain traction in the longer term," Mulligan said. "Napster's business model is essentially a long term one."
Mulligan noted that Napster has planted the seed for long-term growth by targeting campuses, noting that many brand loyalties are formed in those years that consumers keep with them for life. "Banks figured that out a long time ago," he said.
Long Way Back
In the end, services and features are expected to carry the day in the music market as price differences shrink over time, Mulligan noted. Currently, Wal-Mart is the low-cost alternative in the space, selling some songs for 88 cents each. Still to be fully realized is the impact that the entry of Microsoft, Sony and others into the space will have. Microsoft opened a beta version of its music store last fall.
Piper Jaffray senior analyst Safa Rashtchy said Microsoft has yet to impact the music business in a significant way and that its site launch amounts to a foot in the door. It might take either a substantial consumer marketing push, which many analysts are expecting sometime this year, or a strategic acquisition for that to change, he said.
Meanwhile, Napster hopes its soon-to-be-launched Napster to Go service is one of those service and feature differentiators. Though it has released few details to date, it is already billing it as the "world's first portable music subscription service." It already offers a mobile ring-tone service that was launched late last year.
The revival of Napster is already one of the quirkiest of e-commerce stories, with the software emerging from a Boston dormitory room in the 1990s and soaring to infamy as an underground peer-to-peer program before being shut down by lawsuits.
Roxio bought the company only to later drop its original name in favor of the Napster brand name and image.