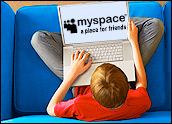 In response to advertising industry concerns over Internet security, MySpace.com has removed 200,000 "objectionable" profiles from its social network. The site erased profiles containing risque or hate speech content.
Ross Levinsohn, president of MySpace parent company News Corp.'s Internet division, made the announcement at the Bank of America Media, Telecommunications and Entertainment Conference in New York. News Corp. acquired MySpace last year for US$580 million.
MySpace.com boasts about 67 million users. It adds 250,000 users each day and accounts for 12.5 percent of all online display ads. It is officially one of the most 10 popular sites on the Web, although most users have probably never visited it.
"MySpace's policy says no nudity, but there are certainly posts that slip through. But there is no policy against R-rated language so such language is likely to remain," Scott Allen, author of "The Virtual Handshake," told the E-Commerce Times.
Advertisers Speak Out
Panelists from Universal McCann Interactive, Pepsi-Cola, McDonald's, NBC Universal, Campbell's Soup and Subway said that they do not advertise on the site because of its objectionable content and the recent swirl of controversy surrounding the network.
"I am sure MySpace is having trouble attracting certain advertisers, but I can't imagine it is really having problems filling up the ad inventory. If it is not having any problems filling up the ad inventory, then who cares? There are companies that won't advertise in the Sports Illustrated swim suit issue, but there are plenty that do," Allen said.
Amid Controversy
The MySpace controversy was stirred up by concerns that pedophiles use the site to target kids. Two men were arrested in March for allegedly engaging in sexual contact with minors whom they met on MySpace.
MySpace members can make public their e-mail addresses, hobbies and other information on their personal sites. Critics said this could put them at risk.
"There are predators hanging around playgrounds and schools, too. If you want to talk about how easy it is for predators to get information, consider how easy it is for predators to get hold of a yearbook with every kid's picture, grade and activities," Allen said.
Though MySpace's policy requires users to be at least 14 years old, some suspect even younger kids are members. That is likely with the popularity of online social networks among teenagers and the growing Internet traffic in this demographic.
Pew's Take on Internet Safety
A Pew Internet and American Life Project study found that the number of teenagers using the Internet has grown 24 percent in the past four years. Eighty-seven percent of kids between the ages of 12 and 17 are online. Compared to four years ago, teens' use of the Internet has intensified and broadened as they log on more often and do more things when they are online, according to Pew.
At the same time, researchers found that 81 percent of parents feel that the teenage population is not as careful as it should be online and that 65 percent of teens do things online that their parents don't know about. Sixty-four percent of all teens confirmed that they do things online that they wouldn't want their parents to know about.