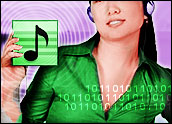 Apple and Pepsi's iTunes giveaway, which promises a free music download coupon under 1 in 3 Pepsi bottlecaps, made a big splash with an ad aired during January's Super Bowl. Now, is the promotion on the rocks following disclosure of a tactic to identify winning bottles without purchasing them first? Not likely, according to analysts and Mac experts.
According to a piece first posted Wednesday on Web site macmerc.com, buyers can easily determine whether or not a particular bottle of Pepsi has a coupon good for a free iTunes song.
Just hold the bottle at an angle — about 25 degrees — and look under the cap. If you see any part of the words "Please try again," put it back on the shelf and try again.
"There are no random letters involved," the macmerc.com article says. "If you don't see any of those words and you have given the bottle a twist (to check from all angles), make a purchase."
Stating the Obvious
Analysts expressed skepticism that the tactic will have a major impact on the Pepsi/iTunes campaign.
"I'm glad these geeks figured out what 12-year-olds have known all this time!" GartnerG2 research director Mike McGuire told the E-Commerce Times.
McGuire also questioned the macmerc.com article's suggestion that would-be bottle hackers practice the technique first. "Just buy a few and take them home. Get the knack for the angle. It isn't that hard to pull off without looking like a huge tool," the article states.
"'Don't try this in the store? Take some home and practice?' It seems that would undercut the whole point, which makes me think the writer was being facetious," McGuire said.
What's an iTune?
Likewise, IDC research manager Jonathan Gaw questioned the overall effect of this "hack" on either Pepsi or Apple.
"Think about the way Pepsi markets. Their market is everybody. All these bottles [with this promotion] are going after the entire population, and most of their drinkers may not even know what an iTune is," Gaw told the E-Commerce Times. "Those who do may not have a broadband connection or an iPod player to play these songs anyway.
"A lot of these winning iTunes caps are just getting tossed in the trash," Gaw said.
Macmerc.com had a somewhat different take on that prediction. Pepsi has disclosed it expects to pay for only about one-third of the 100 million songs offered, "so I say, let's let [non-iTunes users] have the unlucky caps. They weren't going to cash them in anyway," the article states.
Smart Moves
Nevertheless, Gaw said that, from Pepsi's point of view, disclosure of this "hack" is great. "If it gets more geeks to drink Pepsi, more power to them," he said.
"Of these people who do the 'hack,' what percentage drinks Pepsi products? If, say, half of them already drink Pepsi and the other half Coke, and Pepsi can get a percentage to switch over to Pepsi, Pepsi has done what it set out to do," he added.
The Mac Observer publisher Bryan Chaffin called the Pepsi promotion a huge win for Apple as well.
"It will be bringing hundreds of thousands of people to the iTMS, perhaps millions, and many millions more will be thinking about Apple, which benefits the iPod and the Mac platform just as much as it does the iTMS," Chaffin told the E-Commerce Times.
He said Apple's recent decisions to look outside of its usual branding methods — its move to cross-promote the iPod and iTMS with the Pepsi giveaway, sell iTMS gift cards at Target, and let HP rebrand iPods as "hPods" — are smart moves.
"I'd like to see Apple expand this sort of marketing," Chaffin said. "It's high time that Apple thinks differently about its marketing, and this is, perhaps, the first sign of change."
The Right Focus
Overall, McGuire said, Apple's success over rivals like Napster in the still-nascent online music industry has a lot to do with the fact that Apple was the first major entity to deliver a legal and compelling package.
"Napster works. Samsung makes a good player. But I don't think they have the budget for effective advertising," McGuire said. "Apple has more money invested in advertising than anyone else, and you have got to wonder what these other vendors are thinking."
McGuire said most competitors do not seem to understand that, with consumer products, it is the experience, not the technology, that matters. And Apple's advertising and marketing focuses on the experience.
"Given that it is still a developing market, Apple can't have a lock already," he said. "What is it? What are these other guys missing?"