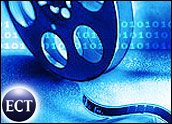 Hoping to head off the sharing of movies on the Internet before it reaches Napster-like proportions, seven major film studios have filed a lawsuit in California against Johnny Deep and several business partners backing the Internet file-swapping network Aimster.
Emily Kuttner, spokesperson for the Motion Picture Association of America, told the E-Commerce Times that the suit seeks US$150,000 for each alleged copyright violation on the network, which uses technology similar to that of music-swapping service Napster.
Plaintiffs in the California suit are Columbia, Disney, Metro-Goldwyn-Mayer, Paramount, Sony, Twentieth Century Fox and Universal.
Given analyst estimates of the number of films being swapped, the copyright infringement damages, if proved, could reach hundreds of millions of dollars.
Works in Progress
In the complaint, the studios allege that Deep and the corporations that run Aimster, including AbovePeer and BuddyUSA, have knowledge about "the massive copyright infringement occurring by and through the Aimster system."
Aimster poses a "Napster-like" threat to the motion picture industry, according to the studios' complaint.
"News reports quoting Defendant Deep contain many references to Aimster's role as the new Napster and to the vast infringements taking place on the system," the complaint alleged.
Thousands per Day
The lawsuit comes as several movie studios continue to work behind the scenes to develop their own Internet-based movie-distribution systems.
However, a recent study indicates that already, thousands of films, including some just hitting the nation's theaters, are being swapped online.
A report from Boston, Massachusetts-based Viant released last week put the number of feature films being traded on the Web at 300,000 to 500,000 a day.
First Run
Some of the films being distributed online have yet to hit theaters, Viant chief technology officer Andrew Frank told the E-Commerce Times. Digital copies circulating during the post-production process are increasingly making their way to the Internet.
While technological realities will make it difficult for sharing of movies to become as widespread as music swapping, Frank said that studios need to be aware that their intellectual property is already being exchanged freely online.
"Hopefully, the studios have learned something by watching the Napster situation unfold," Frank said.
Battles Won
The movie studios have had more success than their counterparts in the music industry in keeping would-be file swappers off balance.
Last year, a suit led by the Motion Picture Industry Association of America against Scour.com helpedlead that network, which was backed by Hollywood mogul Michael Ovitz and others, into bankruptcy as legal action scared off potential investors.
Still, Frank advised studios not to rely on lawsuits alone and instead develop their own channels for distributing content online.
"I don't think the studios are complacent," he said. "But the numbers should be a wake-up reminder."